Trucking news and briefs for Tuesday, Dec. 21, 2021:
Army vet wins new Kenworth in Transition Trucking rookie trucker contest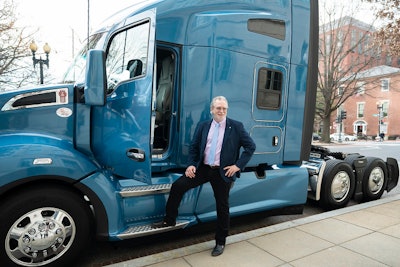 A distinguished veteran with 22 years of combined service in the U.S. Army and Army Reserves received the annual "Transition Trucking: Driving for Excellence" award during a special ceremony held at the U.S. Chamber of Commerce Foundation in Washington, D.C.
For the sixth consecutive year, Kenworth teamed with the Fastport Trucking Track Mentoring Program and the U.S. Chamber of Commerce Foundation's Hiring our Heroes Program to find America's top military veteran who'd made a successful transition from active duty to driving for a commercial fleet.
During the ceremony, professional truck driver Jimmy Reddell, who hauls for Stevens Transport, received the keys to a Kenworth T680, the top award in the recognition program. The T680 is equipped with a 76-inch sleeper and features the complete Paccar Powertrain with a Paccar MX-13 engine, Paccar TX-12 automated transmission and Paccar DX-40 tandem rear axles.
Reddell entered the trucking industry after he retired from the U.S. Army. Shortly after earning his CDL in 2020, he hired on with Stevens Transport. Reddell recently became an independent contractor through the Stevens Transport Contractor Division, where he currently leases a truck.
"This is certainly a special moment for me," Reddell said. "I'm very honored to receive the 2021 Transition Trucking award out of all the deserving veterans nominated. Thanks to Stevens Transport and Angela Horowitz," the company's vice president of administration and driver resources, "for nominating me. Also special thanks to Hiring Our Heroes, Fastport and Kenworth for their support of veterans making the transition into the trucking industry. I can't wait to get the Kenworth T680 out on the road."
Under the Transition Trucking: Driving for Excellence program, runners-up James C. Rose (U.S. Marines/Prime Inc.) and Christopher Slindell (U.S. Army/Knight Transportation) were each awarded with a check for $10,000.
[Related: Fifth time's a charm for Bryan Smith, who bags the big prize from TCA/Overdrive]
Forward Air implements significant independent contractor raise
Forward Air Corporation announced last week it is implementing its largest ever rate-per-mile increase to its independent contractor fleet within its LTL and Truckload divisions.
Independent contractor fleets and independent contractor teams and solo drivers will receive a 15 cents per mile increase, the company said.
The hike represents the largest per-mile increase in company history and is the third increase announced this year, sixth in the last five years. With this 15-cpm increase, Forward Air anticipates team independent contractors could gross in excess of $497,250 annually/$41,437 monthly, solo contractors in excess of $203,500 annually/$16,958 monthly.
"Our business continues to experience record volume growth," said Tom Schmitt, Chairman, President and CEO of Forward Air. "We remain focused on our commitment to delivering our customers' freight with precision execution." The company hoped the rate increase would "allow us to secure freight capacity by retaining our existing fleet and attracting new independent contractors and fleet owners to become business partners with the Forward team."
Women in Trucking seeking Driver of the Year nominations
The Women In Trucking association is seeking nominations for its annual Women In Trucking Driver of the Year award, sponsored by Walmart. The third annual award recognizes exceptional female truck drivers who lead the industry in safety standards while actively working to enhance the public image of the trucking industry.
The application is open to any female driver who has safely driven at least one million consecutive, accident-free miles. Nominees must demonstrate a positive contribution to the trucking industry and their community.
"Each year we become more amazed at both the quality and the quantity of drivers nominated for this prestigious award," said Ellen Voie, WIT president and CEO. "If you know of a female driver who deserves to be recognized, we ask that you submit her information so we can recognize her for her exceptional service to the industry."
The finalists and overall winner will be recognized at the 2022 Salute to Women Behind the Wheel event at the Mid-America Trucking Show in Louisville, Kentucky, on Friday, March 25.
The winner will be chosen based on her safety record, positive community contributions, and impact on the public image of the trucking industry. She will receive a plaque, commemorative ring and more.