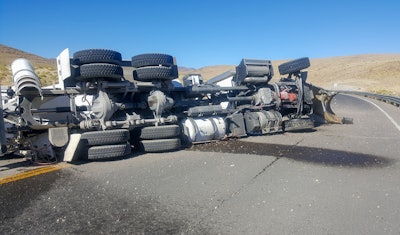 The expiration of local, state and federal lockdown orders last year put many motorists back into their commuting routines and sent traffic crashes and fatalities to near-record levels, according to preliminary data compiled by the National Highway Traffic Safety Administration (NHTSA).
NHTSA estimates 42,915 people died in motor vehicle traffic crashes last year, a 10.5% increase from the 38,824 fatalities in 2020. The projection is the highest number of fatalities since 2005 and the largest annual percentage increase in the history of the Fatality Analysis Reporting System.
Fatalities in crashes involving at least one large truck jumped 13%, reversing the trend seen in 2020. NHTSA pegged truck-involved fatalities at 5,601 and fatalities in large truck-involved crashes were up across the board, according to the report: drivers (+12%); passengers (+9%); motorcyclists (9%); pedestrians (+13%) and cyclists (+5%). NHTSA defines a large truck as any truck with a GVWR of more than 10,000 pounds, either in commercial or non-commercial use at the time of the crash – a weight range that includes everything from heavy duty pickups to semis.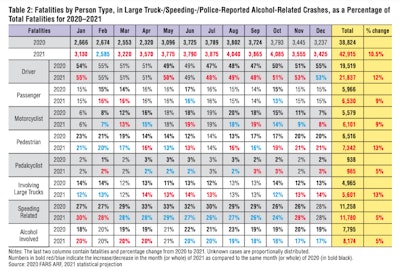 "We face a crisis on America's roadways that we must address together," said U.S. Transportation Secretary Pete Buttigieg. "With our National Roadway Safety Strategy and the President's Bipartisan Infrastructure Law, we are taking critical steps to help reverse this devastating trend and save lives on our roadways."
The full-year estimate of 2021 traffic fatalities also provides a look at state-level estimates during the pandemic. As in 2020, all 10 NHTSA regions are estimated to see increases in fatalities. Forty-four states, the District of Columbia and Puerto Rico are all projected to have had an increase in traffic deaths, as compared to 2020.
Preliminary data reported by the Federal Highway Administration show that vehicle miles traveled in 2021 increased by about 325 billion miles, or about 11.2% compared to 2020.
Data estimates show the fatality rate for 2021 was 1.33 fatalities per 100 million VMT, marginally down from 1.34 fatalities in 2020. While the fatality rate continued to rise in the first quarter, it declined in the other three quarters of 2021 compared to 2020.
Traffic fatalities in multiple categories showed relatively large increases in 2021 versus 2020:
Fatalities in multi-vehicle crashes up 16%
Fatalities on urban roads up 16%
Fatalities among drivers 65 and older up 14%
Pedestrian fatalities up 13%
Daytime fatalities up 11%
Motorcyclist fatalities up 9%
Bicyclist fatalities up 5%
Fatalities in speeding-related crashes up 5%
Fatalities in police-reported, alcohol-involvement crashes up 5%
Ariel Wolf, general counsel for the Autonomous Vehicle Industry Association (AVIA), called NHTSA's 2021 crash fatality work "the most sobering crash report since the inception of the traffic fatality tracking system in 1975."
AVIA counts autonomous truck tech startups Aurora, Embark, Kodiak, TuSimple and Waymo among its membership.
"The unprecedented spike in fatalities in 2021, coupled with the climb in risky driving behaviors since 2020, provide a reminder of why the autonomous vehicle (AV) industry is dedicated to developing and deploying lifesaving technology," said Wolf. "AVs – which do not speed, become impaired or get distracted – can help radically improve safety on American roadways. AVIA stands ready to work with NHTSA, USDOT and Congress to support the development and expansion of AVs to promote safer roads in this country."