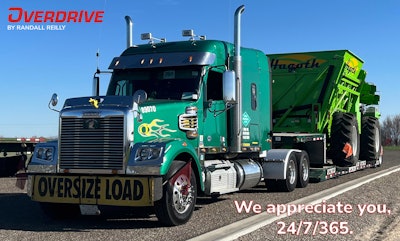 National Truck Driver Appreciation Week is being held next week, Sept. 11-17, and a number of trucking-related businesses and organizations are celebrating truck drivers with various forms of deals and recognition.
Love's Travel Stops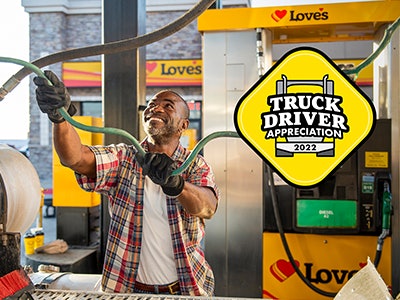 Love's is celebrating National Truck Driver Appreciation Week throughout September by giving away a record-breaking 23.5 million My Love Rewards (MLR) points (worth more than $230,000) to professional truck drivers during the month, including hundreds of daily and weekly winners and a 1-million-point winner at the end of the month.
Each time drivers swipe their My Love Rewards card during September, they will be entered for a chance to instantly win 1,000 or 2,000 My Love Rewards points. Thousands of instant winners will be selected daily. They will also be entered for a chance to win weekly My Love Rewards points and a grand prize of 1 million My Love Rewards points at the end of the month. Winners will be notified by email.
Love's will be conducting the following My Love Rewards Points weekly giveaways:
Sept. 9 one customer will win 250,000 MLR points ($2,500 retail value)
Sept. 16 one customer will win 500,000 MLR points ($5,000 retail value)
Sept. 23 one customer will win 750,000 MLR points ($7,500 retail value)
Sept. 30 one customer will receive a grand prize of 1,000,000 MLR points ($10,000 retail value)
"We look forward to National Truck Driver Appreciation Week each year because it's one way we say, 'thank you,' to professional truck drivers who are essential to the country's success," said Jon Archard, Love's vice president of fleet sales.
"This year is special because it's our biggest points giveaway ever and we've launched a brand focused on keeping drivers and their trucks safe on the road," Archard said in reference to Amarillo Supply Co., a new brand that Love's will carry that will initially sell a variety of air hoses and a blow gun kit, and eventually grow to include around 40 additional items, the company said.
Additional Driver Appreciation Month deals from Love's include:
Fresh food and drink deals Sept. 12-16
Free hot sandwich or fresh salad with an oil change Sept. 12-16
Discounts on Amarillo Supply Co. products throughout September and October
Free Amarillo Supply Co. hat with the purchase of a 3-pack of gloves for $9.99, or any of the six Amarillo Supply Co. safety items promoted at 15% off, throughout the month and through October
Pilot Flying J
In honor of NTDAW, Pilot Company is extending its annual celebration for professional truck drivers from Sept. 1 and through Oct. 31.
"Professional drivers go further every day to deliver more than 70% of the goods this country depends on, and we want to show how much we appreciate all they do," said Shameek Konar, Pilot Company CEO. "Thank you to our very own Pilot drivers and all the professional drivers out there for trucking through even the toughest times. We are honored to serve you, and we're going even further this Driver Appreciation to celebrate your immense contributions."
Pilot Company is showing its appreciation with the following perks:
Up to three free drink choices in the myRewards Plus app each week (Sept. 1-Oct. 31) including Pilot fountain drinks and coffee, sodas, energy drinks and waters
Earn up to 500 bonus points in September with new activated in-app challenges
Discounts on various deli food items all September using the myRewards Plus app, including a 50% discount during National Truck Driver Appreciation Week, Sept. 11 – 17
In October, earn even more points (up to 5 points per gallon) when fueling after activating PushForPoints in the myRewards Plus app
Free Safe and Road Ready Checks in September by Southern Tire Mart at Pilot Flying J. With every check completed, drivers will be entered into a raffle for a chance to win one of three sets of Bridgestone premium steer tires
During Driver Appreciation, Pilot is also teaming up with Monster Energy for on-site celebrations at recently remodeled and new travel centers as part of its New Horizons initiative. Drivers are invited to join the festivities, including events like a BMX show, freebies from the Monster Energy girls, special guests, gas card giveaways, swag and more. Upcoming events include:
Sept. 16, 10 a.m. to 4 p.m. at the Pilot Travel Center on 5231 Pearblossom Hwy in Palmdale, California
Sept. 23, 10 a.m. to 2 p.m. at the Pilot Travel Center on 1701 Ashley Road in Boonville, Missouri
Canadian professional drivers will automatically receive one bonus point throughout September when fueling with their myRewards card at participating Shell Flying J travel centers.
TA-Petro
TravelCenters of America will honor truck drivers with discounts, prize opportunities and giveaways to let drivers know they are recognized, valued and appreciated.
As TA marks its 50th anniversary, this year's celebration will include 50th-themed promotions and prizes.
Activities include daily instant-win games for prizes, including merchandise and coupons for use in the restaurants, stores and TA Truck Service. TA will also hold activities at individual sites throughout the week next week, which will include games, complimentary windshield washing and other initiatives to show appreciation for drivers.
Additionally, TA will host the Truckers Against Trafficking Freedom Drivers Project with Bridgestone Tires at TA Knoxville, Tennessee, on Sept.13, and an event with Arkansas Trucking Association at Petro North Little Rock, Arkansas, on Sept. 15.
Sheetz
Mid-Atlantic convenience store chain Sheetz will celebrate NTDAW (Sept. 11-17) by reducing diesel fuel prices to $4.49 a gallon.
Beginning Sept. 5, the decreased diesel fuel prices will extend through Sept. 30. The price will be reduced at all 654 Sheetz stores that offer diesel fuel pumps.
"Truck drivers are the backbone of this country," said Travis Sheetz, President & CEO of Sheetz. "As a company, we are committed to showing appreciation for our customers. We wanted to go above and beyond for Truck Driver Appreciation Week by providing extended offers that will be unquestionably beneficial to them."
Sheetz will also offer truck drivers a free meal, including their choice of any half Made-to-Order sub, bag of "fryz" and any size self-serve coffee or fountain drink. To redeem the offer, truck drivers should enter "TRUCKYEAH" through the Sheetz Mobile App, which will be offered starting on Sept. 11 through Sept. 30.
St. Christopher Truckers Relief Fund
SCF has launched of its Highway Heroes Campaign in celebration of this year's NTDAW. The month-long campaign, which kicked off Sept. 1, is sponsored by Brenny Transportation, Progressive Commercial Insurance, Pilot Company, Cobra Electronics, Intact Insurance – Accident & Health, Total Quality Logistics, and Echo Global Logistics.
This year's campaign will recognize drivers as essential trucking heroes by highlighting and sharing their stories on a special NTDAW landing page on the St. Christopher website and on social media. Participating companies can submit stories and pictures of drivers they know, love and respect to share their stories with the rest of the country.
"We are excited to collaborate with new and existing sponsors to spend not just a week but an entire month showing truck drivers out there how much we appreciate them," said Shannon Currier, director of philanthropy at St. Christopher. "This campaign will bring positive exposure to the industry and highlight the goodness and generosity of the entire trucking community."
Blue Tiger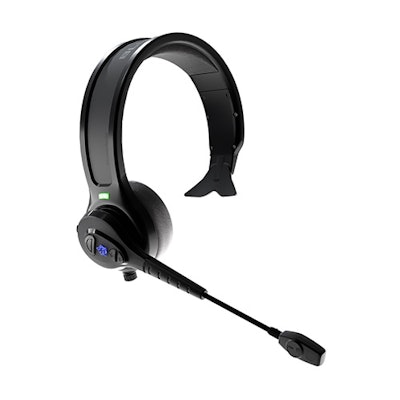 For every purchase of a Solare headset from Blue Tiger through Sept. 17, the company is giving drivers $40 -- $20 in a discount on the headset, and $20 in a donation to the St. Christopher Fund.
Drivers can use code SCFSOLARE to save $20 on their purchase of a Solare headset .
Blue Beacon Truck Wash
Blue Beacon is giving away a $500 Visa gift card at each of its 111 locations, and five drivers will win $10,000.
A truck wash ticket is required to enter. Drivers can enter the contest online here. The entry period closes Sept. 20.
Cobra Electronics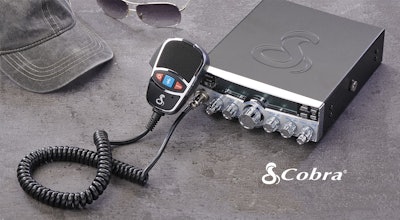 For every Cobra Electronics Professional CB and Recreational CB purchased on Cobra.com during September and October, Cobra will donate a portion of the proceeds to the St. Christopher Truckers Relief Fund.
Marquee Insurance Group & OTR Solutions
On Wednesday, Sept. 14, Marquee Insurance Group and OTR Solutions will be passing out free boxed lunches at a weigh station in Georgia.
From 11 a.m. to 1 p.m., truck drivers passing through the Georgia DOT weigh station along I-20 in Lithia Springs, Georgia, will receive a free boxed lunch.
Truckstop/Roady's
For the second consecutive year, Truckstop (formerly Truckstop.com) is recognizing truckers helping to deliver consumer goods by hosting truck driver appreciation booths at three Roady's truck stop locations/affiliates across the country for the companies' "Rockstars of the Road" program. Drivers can stop by participating locations to receive free lunch, fuel gift cards, die-cast trucks and Truckstop branded merchandise while supplies last.
Monday, Sept. 12 from 11 a.m. to 1 p.m. -- Fontana Truck Stop:

14264 Valley Blvd., Fontana, CA 92335

Wednesday, Sept. 14 from 12-2 p.m. -- On the Run Travel Center:

10026 South Eisenman Road, Boise, ID 83716

Friday, Sept. 16 from 12-2 p.m. -- Baker Truck Corral:

515 Campbell St., Baker City, OR 97814
RaceTrac
RaceTrac is celebrating truck drivers throughout September, offering several perks exclusively for truck drivers at its travel center and EDO (Expanded Diesel Offer) stores.
Truck drivers can participate in RaceTrac Rewards app-exclusive Truck Driver Appreciation promotions from Sept. 1 – 30, including earning 2x points on in-store purchases.
All drivers at RaceTrac travel centers and EDO stores can also purchase a 20 oz. Coca-Cola and receive a fresh sub sandwich for $3 - a 30% savings from the regular price.
During Truck Driver Appreciation Week, in-store events and giveaways will take place at RaceTrac travel centers including:
Lynco Products will host daily free item and coupon giveaways at various travel centers throughout Truck Driver Appreciation week, including one grand prize giveaway for Bluetooth headphones. Guests can check rttruckdrivers.com for specific dates and location information.
On Sept. 14, Nathan's Famous Hot Dogs is sponsoring a free hot dog from 1-2 p.m. at all RaceTrac travel centers.
Truck drivers will have access to a free massage station at the Forest Park, Georgia, store (132 Forest Pkwy, Forest Park, Georgia) on Sept. 13, from 12-6 p.m.
During its month-long recognition of truck drivers, RaceTrac is also supporting and raising awareness of the Truckers Emergency Assistance Responders (T.E.A.R.) non-profit organization. T.E.A.R. was founded by three truck drivers in 2019 to help fellow truckers who were stranded on the road and unable to get home with their belongings. The organization now serves as a relief fund that provides immediate assistance to truck drivers in distress.
Truck World
From Monday, Sept.12, through Wednesday, Sept. 14, truckers can enjoy a free lunch at three participating Truck World locations.
Conneaut (780 State Route 7, Conneaut, Ohio)
Hubbard (6985 Truck World Boulevard, Hubbard, Ohio)
North Jackson (12700 Leonard Parkway, North Jackson, Ohio)
The company says that the driver appreciation celebration will also include games, T-shirt giveaways and double loyalty points.
Trucking Moves America Forward
Trucking Moves America Forward, the industry-wide education and image movement, is thanking America's professional truck drivers with its annual #ThankATrucker campaign during NTDAW.
The campaign, which encompasses outdoor, broadcast, and digital advertising, aims to educate the motoring public on the essential job of the truck driver as a highway hero, and trucking's overall contributions to American communities and the nation's economy. It also shines a light on the jobs available within trucking.
"TMAF is proud to host our annual #ThankATrucker campaign to thank America's truck drivers for their continuous work – not just during NTDAW, but every day," said Kevin Burch, co-chairman of TMAF and Vice President of Government Affairs and Sales at MTS. "America's trucking industry has navigated many challenges this past year, including a bottleneck supply chain and increased consumer demand. Despite challenges, truck drivers remain on the front lines, delivering all the essential goods that our communities rely on to keep the country supplied and the economy moving forward."
As part of the annual billboard advertisement campaign, TMAF partnered with state trucking associations and organizations to display personalized billboards along highways and freeways in a couple of dozen markets across the country.
The billboards can be seen on highways in Bentonville, Clarksville, Forrest City and North Little Rock, Arkansas; Northern Idaho; Ft. Wayne, Indianapolis and Terre Haute, Indiana; Cedar Rapids and Des Moines, Iowa; Louisville, Kentucky; Alexandria, Houma–Thibodaux, Lafayette, Monroe and Shreveport, Louisiana; Minneapolis/St. Paul, Minnesota; Buffalo and Latham, New York; Las Vegas and Reno, Nevada; Dayton, Ohio; Memphis and Knoxville, Tennessee; Houston, Corpus Christi and San Antonio, Texas, and Blackstone and Keysville, Virginia.
As part of the education campaign, TMAF will be thanking truck drivers and sharing industry facts on the radio airwaves on Red Eye Radio, Westwood One Sports and Westwood One talk radio programs. TMAF's social media channels, including Facebook, Twitter, Instagram, LinkedIn, and TikTok will display educational graphics and messages as part of the campaign.
To view all advertisements from this year's #ThankATrucker campaign, click here.
ATBS
Business services provider ATBS is giving away Visa gift cards to three winners during NTDAW.
Everyone who participates will receive ATBS' Business Guide for Self-Employed Truck Drivers.
For a chance to win, owner-operators need to fill out the form here and subscribe to ATBS' YouTube channel.
Truckstop
Truckstop (formerly Truckstop.com) set a new Guinness World Records title for the largest toy truck sentence in celebration of NTDAW.
Using more than 2,000 branded big rig toy trucks, Truckstop spelled 'Truck drivers are the rockstars of the road!' at their Boise, Idaho, office on Sept. 9.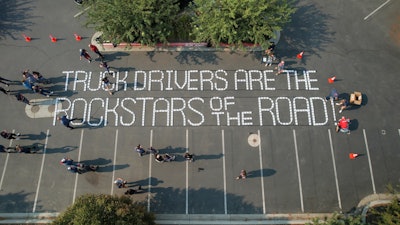 "I was excited to join the team at Truckstop for their record-breaking Guinness World Records title attempt," says Michael Empric, official adjudicator from Guinness World Records. "Seeing 2,098 toy trucks spelling out a sentence recognizing truck drivers for their crucial work was officially amazing."
The Guinness World Records title for the largest toy truck sentence, officially the longest toy car sentence, stretched more than 65 feet wide and almost 14 feet tall and took more than 30 Truckstop employees to accomplish.
"Truck drivers are the backbone of America. We wanted to do something big to show how much we appreciate them, and there isn't anything much bigger than setting a Guinness World Records title," said Kendra Tucker, chief executive officer, Truckstop. "We appreciate the long hours and sacrifices truck drivers make. They truly are the rockstars of the road."
The toy trucks will be donated to Western Idaho Community Action Partnership (WICAP), a non-profit serving several counties in Idaho since 1965. Their programs serve community members of all ages, and the toy trucks will be donated to local children in need ahead of and during the holiday season.
Haul Hero
Haul Hero is celebrating truck drivers with the launch of its new mobile app that helps owner-operators quickly estimate their cost per mile before they accept their loads by calculating mileage, fuel, stops and expenses.
Haul Hero offers two versions: the free Hero platform features the "Estimator" to deliver route mileage, fuel time, stops and rig costs based on national averages, as well as saving expense receipts. The Superhero premium platform features the "Estimator" along with an "Actualizer" to capture exact expenses and receipts in calculating more precise cost per mile.
Haul Hero partnered with Chester's Chicken, CDL 4 Life, Woody's Smokehouse, Big Boys Travel Center and Fuel X through a series of pre-launch promotions. "We are thrilled to collaborate closely with such great partners that believe in our mission to help support our drivers," said Jerry Rosen, Managing Partner of Haul Hero.
Mid-America Trucking Show
Organizers of the Mid-America Trucking Show are hosting a contest for the chance to win a MATS prize package.
To enter, you can share your story or the story of a trucking professional you want to recognize as "Trucking Strong," which the contest describes as men and women of the trucking industry that inspire and bring pride and distinction to their families and the trucking industry.
The prize package includes four VIP tickets for the 2023 Mid-America Trucking Show, a $250 Visa gift card, and a collection of MATS merchandise.
The contest can be entered here.
Shell Rotella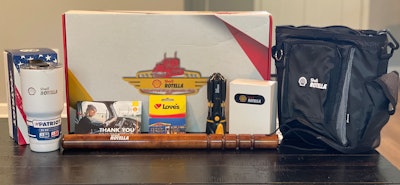 Shell Rotella has partnered with truck driver-focused subscription box service BreakerOne9 to give away special-edition subscription gift boxes for truckers during NTDAW.
The carefully curated gift box includes items that are designed to improve truck driver's lifestyles while on the road. All BreakerOne9 subscribers will receive the Shell Rotella box during National Truck Driver Appreciation Week.
This post will be updated as more NTDAW deals and recognition are announced.