Trucking news and briefs for Tuesday, Oct. 18, 2022:
$1M in fentanyl seized from truck crossing U.S.-Mexico border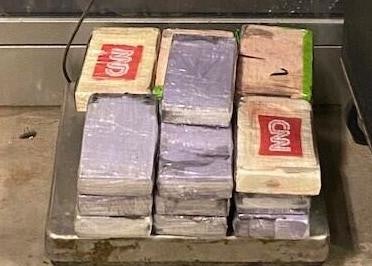 More than $1 million in fentanyl was found in a tractor-trailer attempting to cross the Pharr International Bridge on Thursday, Oct. 13, according to authorities.
U.S. Customs and Border Protection's Office of Field Operations (OFO) at the Pharr International Bridges Cargo Facility intercepted $1,036,000 in alleged fentanyl.
"CBP officers intercepted this load of fentanyl, the largest thus far in port history, thanks to great teamwork and the utilization of all available tools and resources," said Port Director Carlos Rodriguez of the Hidalgo/Pharr/Anzalduas Port of Entry. "It is important to remember how lethal fentanyl is, which is why our officers always work wearing personal protective equipment and use vital equipment which can identify these dangerous substances before officers handle them."
CBP officers assigned to the Pharr International Bridge cargo facility encountered a commercial truck arriving from Mexico. A CBP officer referred the truck for further inspection, which included using non-intrusive inspection equipment and screening by a canine team.
After physically inspecting the load, officers found 19 packages of alleged fentanyl weighing 44.35 pounds (20.12kg) concealed within the tractor.
CBP OFO seized the narcotics and vehicle, and the case remains under investigation by agents with U.S. Immigration and Customs Enforcement-Homeland Security Investigations.
[Related: Inside an uptick in human smuggling via tractor-trailer]
Trucker Tools debuts new driver rewards program
Trucker Tools has launched a new driver loyalty rewards program for independent truckload owner-operators and small-truckload fleets.
The program is available to all truckload operators on the Trucker Tools mobile app, which currently has more than 2 million users -- primarily owner-operators and small truckload fleets with 10 trucks or less, which provide some 90% of for-hire over-the-road truckload capacity, said Kary Jablonski, chief executive of Trucker Tools. The user community engages with nearly 400 freight brokers on the platform, she added.
"Truckers every day see similar loads and lanes, and offer rates from multiple brokers, without much difference from one to another," Jablonski said. "This program is true load differentiation."
She added that the program offers "a concrete monetary incentive for truckers to build more business with preferred brokers" and "enables brokers to reduce operating costs, and drivers to earn more money just by doing more of what they already are doing with digital transactions over the Trucker Tools platform."
Owner-operators can sign up for the program here.
The program's benefits for truckers include:
Rewards the driver for digital transactions they're already doing on the Trucker Tools app, such as a Book-It-Now automated booking, an app or ELD-based shipment track, or digital document upload.
No cost for drivers to join, points are awarded directly to the driver and immediately redeemable for digital gift cards at 200+ retailers.
Promotes the trucker as a carrier of choice, access to preferred loads by demonstrating loyalty through repeated actions.
Incentivizes brokers to compete for driver loyalty, engagement, and provides competitive advantage in securing reliable capacity.
As an incentive to encourage driver participation in the program, for the first month, Trucker Tools is promoting a special offer. Owners who successfully book and complete a Book-It-Now load in the Trucker Tools mobile app will receive 100 Trucker Points. It can be a load booked with any broker, not just ones enrolled in the program. The promotion expires Nov. 14.
Trucker Tools designed the program with input from both truckers and brokers, with the objective of finding a way to "incentivize and reward drivers on our platform for the great job they already are doing," Jablonski added. "It's free to the driver. Award points go directly into the driver's account, there is no middleman."
TrueNorth offering paperless onboarding, enrollment for leased owner-ops
Insurance brokerage firm TrueNorth Companies announced Monday a new way for motor carriers to enroll independent contractors in coverage via the TNTruck app, accessed through a native app, web or mobile browser.
Independent contractors driving for a motor carrier can now use the TNTruck app to enroll or manage coverage for TrueNorth's Independent Advantage program.
TNTruck uses electronic signatures, making the enrollment process paperless. The platform also leads to a simplified renewal process, as independent contractors can print certificates directly from the app, adding to the platform's existing capabilities for motor carriers to integrate and synchronize data in real time between the firm, contractors, the insurance company and TrueNorth.
The TNTruck app launched in 2019 as a way for independent contractors -- not driving for a motor carrier -- to get fast and easy quotes for trucking insurance, manage drivers and units and access certificates and account information. Now, contractors leased to a motor carrier get access to the benefits of a fully integrated platform.
HDVI's dynamic insurance pricing available in two more states
The High Definition Vehicle Insurance (HDVI) company, a provider of commercial auto liability insurance to carriers, announced its availability to fleets in North Carolina and Colorado. HDVI partners with trucking companies to help reduce insurance costs by putting telematics data to better use.
HDVI seeks to bring dynamic pricing to commercial trucking insurance coverage. Its HDVI Shift program rewards small-to-mid-size fleets for safety, using uses onboard telematics data to model real-time risk.
"Using real-time risk models, HDVI identifies and monitors the frequency of risk factors to provide monthly insurance premium discounts up to 12% to customers who improve their safety scores," said Reid Spitz, HDVI co-founder and chief product officer.
Backed by a workforce that has doubled over the past year, the company primarily serves small and midsized trucking fleets in 17 states: In addition to North Carolina and Colorado, those include Alabama, Arizona, Arkansas, Florida, Georgia, Illinois, Indiana, Michigan, Minnesota, Missouri, Ohio, South Carolina, Tennessee, Texas, and Wisconsin. HDVI expects the number to grow to 25 by the end of the year.
[Related: Usage-based insurance: Trucking's best-kept secret?]
Pilot opens new store, completes eight renovations
Pilot Company is celebrating the opening of a newly-built travel center in Palmdale, California, and the completion of eight store remodels as part of its New Horizons initiative.
The new Pilot travel center in Palmdale features 55 truck parking spaces, seven diesel lanes with biofuel and DEF, Subway and Cinnabon restaurants, a full deli, five showers and more.
Freshly remodeled locations incorporate Pilot's latest store amenities and modern finishes, including:
Altoona, Iowa -- Upgraded restrooms and bathrooms, an expanded deli menu, and new Cinnabon kiosk
Boonville, Missouri -- A new breakroom for team members, new kitchen to serve guests and four self-checkouts
Florence, South Carolina -- New kitchen for team members to prepare an expanded menu of fresh food and grab-and-go cold items, fully remodeled Wendy's, and four self-checkouts
Gordonsville, Tennessee -- New restrooms and showers, newly remodeled Dunkin' Donuts
Hope Hull, Alabama -- Newly added deli with grab-and-go options, an expanded beverage selection, and new Southern Tire Mart at Pilot Flying J service center
Joplin, Missouri -- Upgraded food and beverage selections, fully remodeled Wendy's, and four new self-checkouts
Pontoon Beach, Illinois -- Fully remodeled restrooms, bathrooms, showers, kitchen, and Cinnabon kiosk
Sullivan, Missouri -- Upgraded deli with additional grab-and-go items, expanded beverage selection, and four new self-checkouts
Through Oct. 23, guests can save 25% off food and beverages when checking out the latest remodels in Hope Hull, Alabama, Joplin, Missouri, and Sullivan, Missouri, by entering promo code PFJOctober in the Pilot myRewards Plus app. Truck drivers are also eligible to receive special perks in the myRewards Plus app through Oct. 31 as an extension of Driver Appreciation, including three free drink choices each week and up to five points per gallon by activating PushForPoints.