At the annual conference of the National Association of Small Trucking Companies on October 20, TravelCenters of America President Barry Richards announced the company's annual Citizen Driver Award winners: Susie Deridder of Fredericton, New Brunswick, Canada, and Douglas Ralph Smith of Bountiful, Utah. Chosen from nearly 200 nominations, the two operators have a combined 95 years' experience hauling freight, with more than eight million accident-free miles between them.
"Each year, our Citizen Driver Program honors those who go above and beyond to serve others. Their commitment to delivering our nation's goods, no matter the circumstances, is critical for our country's economy," said Richards. "We are committed to continuing to share these drivers' stories," and demonstrating "why they deserve respect and recognition year-round."
Each Citizen Driver annually gets to choose a TA, Petro or TA Express location to be dedicated in their honor. A bronze historical marker with the driver's image and story is installed on the front of the building, and a dedication ceremony is held with dozens of their closest family and friends. Likewise, a $2,500 donation is made to an organization of each Citizen Driver's choosing.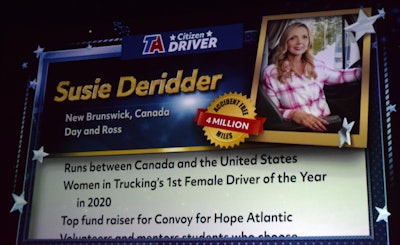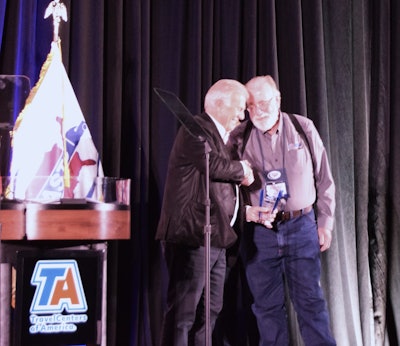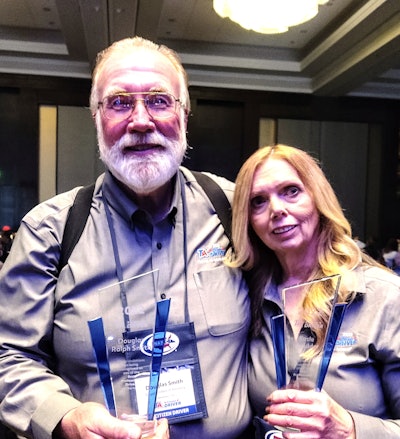 TA launched the Citizen Driver program in 2013. Winners are chosen based on their background and involvement in initiatives like promoting community safety, health and leadership.
Deridder and Smith were selected from a group of seven finalists Richards called the "Magnificent Seven," many of whom were on hand for the evening program. They included names that might be familiar to longtime Overdrive readers, including small fleet owner and custom builder Paul Rissler, operator Earl Spradling, and past Owner-Operator of the Year Thomas Miller.
Trucker Susie Deridder has been driving 43 years -- she was Women in Trucking's first Driver of the Year honoree. She was the first female driver to lead the Convoy for Hope event. She's a member of Women in Trucking and former board member of the Women's Trucking Federation of Canada.
Doug Smith has trucked for 54 years, with more than 4 million accident-free miles in his background, and is a member of his state trucking association's safety advisory panel. He's likewise a member of the Federal Motor Carrier Safety Administration's relatively new advisory committee of drivers, part of the broader federal Motor Carrier Safety Advisory Committee. His family's five-generation Ralph Smith Company small fleet has been covered in Overdrive as recently as this year.
NASTC's 2022 Best Broker honoree: Johanson Transportation Service
NASTC President David Owen acknowledged the association's Best Broker of the Year, selected from among its longtime group of "Best Brokers" as the "best of the best" for 2022, said Owen.
Tomas Hawker, director of the Pacific Northwest region for Johanson Transportation Service, in business since 1971, was on hand to accept the award for JTS. Hawker, nodding to messages delivered throughout the evening program, lauded his business's partners as the secret to JTS's success in dry van/perishable freight. "If it wasn't for the drivers, trucks and carriers out there, we would not exist," he said. "Thank you so much."
[Related: John McGee, CAP Trucking: 2022 Small Fleet Champs]