Trucking news and briefs for Thursday, Feb. 2, 2023:
I-94 set to close this weekend
The Michigan Department of Transportation will be closing a portion of I-94 near Detroit over the weekend as crews will be removing the Cass Avenue overpass.
The work will require closing I-94 between Interstates 75 and 96 starting at 9 p.m. Friday, Feb 3. Both directions of I-94 are expected to reopen by 5 a.m. Monday, Feb. 6.
WB I-94 traffic will be detoured via SB I-75 and WB I-96 back to WB I-94. EB traffic will be detoured via EB I-96 and NB I-75 and back. All entrance ramps to EB I-94 from 30th Street to M-10 (Lodge Freeway) and EB I-94 from Mt. Elliott to Linwood streets will be closed by 9 p.m. Friday and will reopen by 5 a.m. Monday.
Ramps that will remain closed after the weekend closure include:
NB and SB M-10 (Lodge Freeway) to EB I-94
WB I-94 to SB M-10
John R. Road entrance ramp to WB I-94
EB I-94 exit to John R/Woodward Ave
The ramps will remain closed to allow crews to safely build the outside supports of the new bridge. Upon opening Monday morning, EB and WB I-94 will have three lanes open with traffic shifted toward the median to accommodate the bridge support work.
The new overpass will replace the original structure built in 1955. All work on this $12.5 million project is scheduled to be completed in early 2024.
[Related: Roads 511: Highway information in real time]
New Spicer end yokes available for Allison auto transmissions
Dana Incorporated now offers genuine Spicer automatic transmission end yokes specifically designed for replacement on Allison transmission applications.
"With a high volume of Allison transmissions currently in service with yokes approaching the end of their product lifespan, Dana is ready to meet the demand by offering an OE-quality replacement option for Allison transmission applications," said Bill Nunnery, senior director, sales and marketing, global aftermarket for Dana.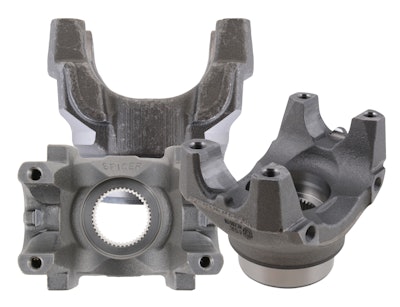 Nunnery added that "there is a real need in the marketplace for quality automatic transmission end yokes."
To help service technicians quickly and easily measure yokes so they can determine the series of the driveshaft needed, a Spicer yoke ruler measurement guide is available. Techs and equipment owners can obtain a yoke ruler by contacting a Dana sales rep.
[Related: The five most-common reasons wheel seals fail]
Six fleets seek waiver to allow Intellistop flashing brake lights
Following a request last week from 24-truck Encore Building Products, six more carriers have now petitioned the Federal Motor Carrier Safety Administration for a waiver from the requirement that lighting devices be steady burning.
The six fleets each asked FMCSA for the ability to use a module manufactured by Intellistop that pulses the rear clearance, identification and brake lamps from a low level of lighting intensity to a high level of lighting intensity four times in two seconds when the brakes are applied.
Each of the six carriers submitted nearly identical requests, stating that the pulsing brake lights "would enhance rear signal systems," adding that the Intellistop system "may significantly increase visibility and reduce the frequency of rear-end crashes."
FMCSA is requesting comment on each request through March 3. Comments can be filed at the following links:
Fleets seeking the exemption, including links to their respective comment pages, are: