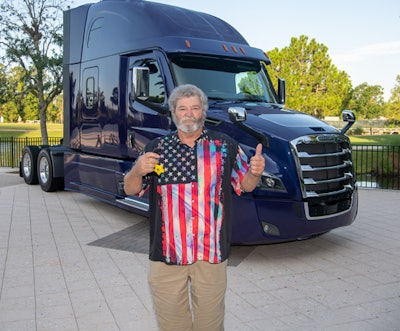 Landstar
Landstar System earlier this month awarded a new 2024 Freightliner Cascadia truck to Million Mile Safe Driver Willie Mixon, out of Quitman, Mississippi. The annual truck giveaway is the highlight of Landstar's BCO (business capacity owner) All-Star Celebration, which was held in Orlando, Florida.
The All-Star Truck Giveaway is exclusively reserved for Landstar Million Mile Safe Drivers and Roadstar honorees -- the designation awarded to the "best of the best" for high levels of safety, productivity and excellence in customer service, the company noted. Each of the owner-operators has driven at least one million consecutive miles with Landstar without a preventable accident.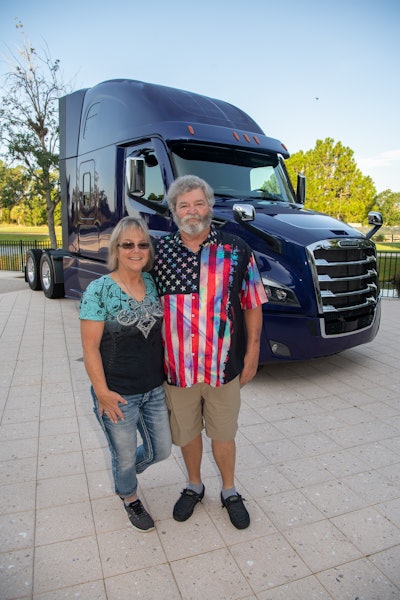 The truck awarded to Mixon was the 47th that Landstar has given away in its history and the 10th truck given specifically to a Landstar Million Mile Safe Driver or Roadstar. This year's truck was sponsored by Comdata, and the prize includes all registration fees and taxes paid by Landstar.
"We are pleased to continue the annual tradition of giving away a new truck to one of Landstar's best and safest owner-operators," said Landstar President and CEO Jim Gattoni. "The safety-first mindset of Landstar independent owner-operators who have reached the Million Mile Safe Driver and Roadstar milestones deserves to be celebrated. I can't think of a better way to celebrate than to give away a new truck, and Mr. Mixon is a wonderful recipient."
Mixon, who was named a Landstar Million Mile Safe Driver and Roadstar honoree in 2014, has been leased on to the company for 19 years. He's a team driver with his wife, Jackie Mixon, who is equally excited about the new truck.
Mixon was one of four finalists randomly drawn from the pool of eligible Landstar owner-operators. Then, on stage at the ceremony, the finalists each selected one of four boxes, one of which contained the key to the new truck. Upon winning, Mixon told the audience that he thanked God and all the people at Landstar.
Also occurring during Landstar's BCO All-Star Celebration was the induction of the newest class of Million Mile Safe Drivers and Roadstars. The new class is comprised of 98 new One Million Mile Safe Drivers, 19 new Two Million Mile Safe Drivers and one new Three Million Mile Safe Driver. There were also 15 owner-operators who earned the Roadstar designation, bringing the company's total to 174.
The 15 new Roadstar honorees are: Doug Austin, Rob Badker, Greg Cornelius, Dan Crotsley, Michael Keinz Jr., Jim Kepner, Vicki Lively, David Long, Adrian Martin Sr., Regina Otto, Edin Sagastume, Randy Sasser, Frank Smith, Jackie Watson and Tim White.
[Related: Writing the book on trucking as an independent: Trucker of the Month Debbie Desiderato]