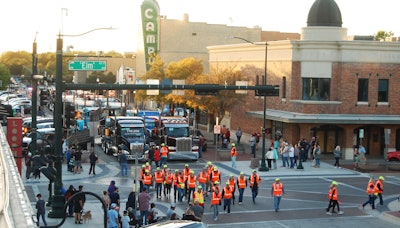 All photos by Todd Dills
After the COVID-19 pandemic scuttled the event in 2020 and 2021, on Friday, October 13, Peterbilt's Pride and Class Parade returned for the second time since, for its 6th annual run around the courthouse square in Denton, Texas, home to Peterbilt headquarters and an assembly plant. The parade, starring 40-plus truck owners and operators specially invited by Peterbilt, drives donations to the United Way chapter in Denton. Over many years, Peterbilt's various efforts to help support the organization have yielded $8.5 million in funding. Peterbilt General Manager Jason Skoog said this event was likely to put them well over the $9 million mark all-time.
Among trucks and owners on-hand donating time was owner-operator Greg Crispell, with his mostly self-rebuilt 1984 Peterbilt 359. Like every other owner on-hand, Crispell was honored to be asked to participate in the event, and chalked up his invite to association with fellow Peterbilt owner Jake Bast. Crispell, who also runs a custom-parts-fabrication side business that gives him the ability to shut the truck down for much of the harsh, snow-heavy upstate New York winter, built the unique visor on Bast's 379, featured at this link in Overdrive's Custom Rigs video series.
"I made him a visor back in late winter, early Spring, and got to know him," said Crispell, and "I think he paid it forward" by putting Crispell's classic on the radar of Peterbilt's staff, who extended the invite.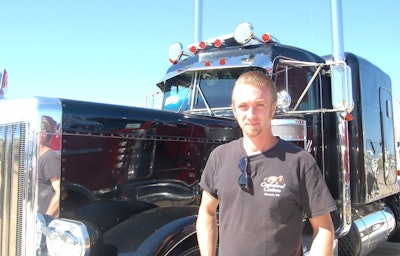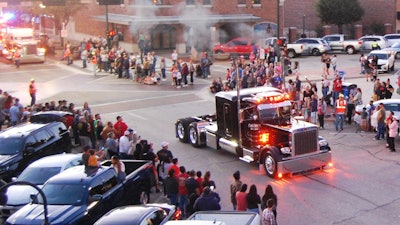 Oil and gas pro and builder Jarret Landry of Louisiana was on-hand with his wife, Jessica, and owner-operator father Wayde Landry to showcase a similar truck, a 1988 Peterbilt 379 he rescued from near-ruin. Built originally as a daycab for a North Carolina owner, along the way in the custom-resto Landry added a sleeper to make space for two rear seats, anticipating runs to livestock-show events as his kids get older, he wagered.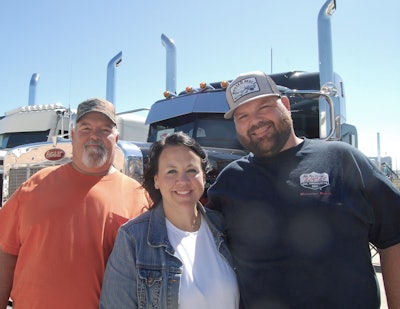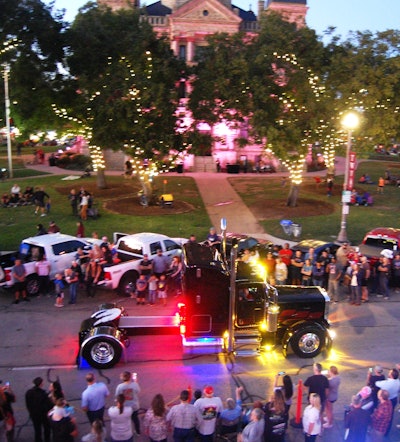 Other owners invited this year no doubt benefited from the spotlight put on their rigs out on the show circuit. At least two parade participants are either among this year's Pride & Polish finalists and/or past winners. Hallahan Transport owner Rob Hallahan's "Joke's on You" 2022 389 and C.J. Donovan's 1984 Peterbilt 362.
[Related: Overdrive's 2023 Pride & Polish finalists: The best of the best in custom rigs]
Likewise, fleet owner Troy Massey, hauling mostly in support of oilfield operations. His first invite came this year for a near total custom redo of a brand-new 2022 389 powered by a 605-hp Cummins and 18 speed transmission. At 320 inches for a wheelbase, the rig's redone with a level of detail that is simply astounding, including extensive chrome and paint work on engine parts.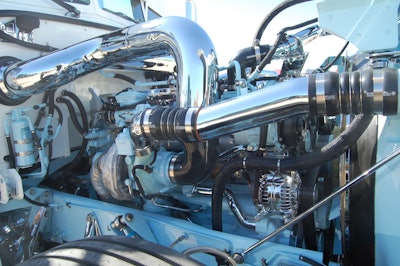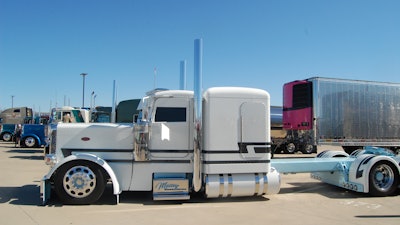 Owner-operators and their custom creations are a big part of the events surrounding the Pride & Class parade. Philanthropy, too, no doubt. Yet Peterbilt goes out of its way with the celebration to honor employees as well. Serving as parade Grand Marshal this year was Ken Montgomery, riding shotgun with longtime Peterbilt plant tour leader Rob Kelly in the 750,000th truck built at the Denton Plant, a TMC-owned 579. Montgomery himself holds the distinction of having served as a defects analyst at the Denton plant since the day it opened, having played a part in all 750,000 of those rigs.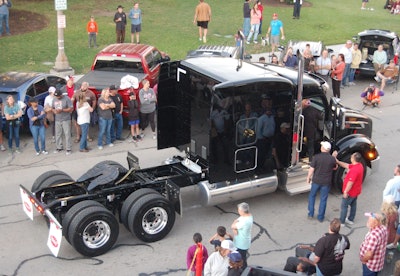 Following the morning after the parade, Pete hosted all participating truck owners for a show at the manufacturing facility especially for Peterbilt plant employees and their families to truly appreciate the work put into keeping their own creations working hard through the decades, likewise to investigate just what is becoming of their own creations out in the real world.
With the COVID-years exceptions, since 2016, the company's hosted owner-operators and small fleet owners at the "Peterbilt Open House" event in concert with the parade.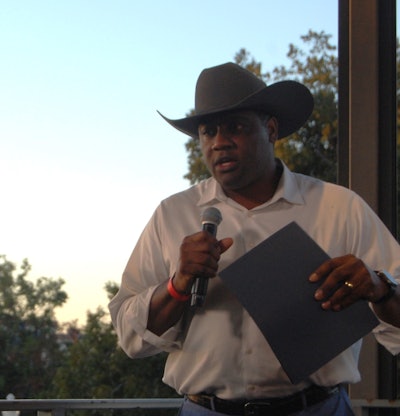 Throughout the month surrounding the event, too, employee donations are delivered to the United Way of Denton with a company-wide giving drive. The parade, the company noted, is "a way for us to further amplify that spirit of giving and pride for the Denton community."
United Way of Denton CEO Gary Henderson thanked Peterbilt, parade-participating truck owners from around the nation and the city's residents for long-ongoing support for the estimated 102,000 area residents who "live below means."
For a great cause, for sure, yet the parade's also quite a lot of fun for everybody in attendance, as the crowds along the route attest. Catch the livestream replay via the embed below.