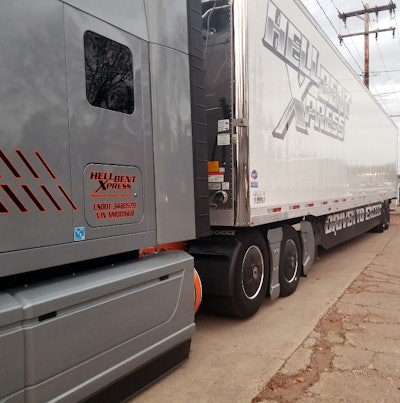 According to polling this spring and through last week here at OverdriveOnline.com, a slight majority of owner-operators report the use of fuel treatments year-round (53%). There's anecdotal evidence that number could well be on its way up, in part due to greater recognition of the diesel-quality situation all around the country, likewise the longer-term maintenance benefits of regular treatment use that have been shown by makers from Pittsburg Power with its Max Mileage Fuel Borne Catalyst to Clean Air Fleet and others.
Howes, too, maker of the long-available Howes Diesel Treat winter anti-gel and the warmer-weather Diesel Defender product, among others. Company President and Chief Testing Officer Rob Howes shared results somewhat similar to those above from a survey of Howes customers about treatment practices during the Mid-America Trucking Show this spring, finding that about a quarter of Howes customers only treat in the winter for anti-gel properties. The benefits of year-round treatment, though, can extend to enhanced water removal, noted by 69% of those who treated year-round among the customer base, and increased power/performance (63%), improved fuel economy (57%) and less maintenance (48%).
Fuel-quality issues continue to be a concern for many, too, generally. Rob Howes noted a principal question he gets from customers calling in is this: "Are fuels getting worse or is it just me?"
The answer? It's complicated. "No/yes, yes/no," said Howes. While the rise of Ultra Low Sulfur Diesel well more than a decade ago presented issues of less lubricity for engines of that era, and which continue, the increasing blending of biofuels into diesel stocks today presents issues of its own. "It's becoming extremely common," said Howes. Five-percent blends are "almost a guarantee at this point, and 20% is getting pretty common." Suppliers "dial it back usually in the winter, but" not in all areas. "And then you see people gelling up more often."
Jamie Hagen, owner-operator of Hellbent Xpress out of Aberdeen, South Dakota, runs his 12-truck fleet of Macks and still turns the wheel of one of them himself, with five leased to the well-known food-grade tank operation of Viessman Trucking and the rest under his authority, pulling dry vans and one step deck. For two years now, after having used a different product to treat his fuel, Hagen decided to install the on-board dosing system of Clean Air Fleet and try out their treatment product. "I had heard about them in a roundabout way," he said, "just by accident" you might say. "I started having really good success with it."
Drivers there liked the ability to dose their fuel easily -- one upshot. "We decided to convert the whole fleet," he said.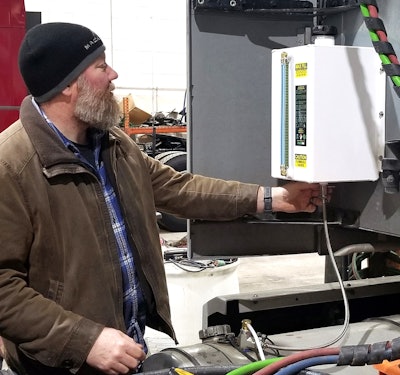 For Hagen, gelling issues running from Texas north in winter back to his home region, which had happened a couple times in the past, haven't materialized since the switch, treating with the company's winter blend. Better yet, emissions-systems maintenance issues have been avoided, too, he said, "our biggest thing" when it comes to measuring success with the product.
Three 2020 Mack Anthems, all with 400,000-plus miles, had never had a single emissions failure until the week prior to our conversation with Hagen last month. Given past experience, he views that as success, a combination not just of the fuel treatment but also "spec'ing the trucks right to keep them downsped. ... most of the time I'm running 900-1,000 rpms." All of it helps keep the aftertreatment hot. With the Clean Air Fleet treatment system Hagen's also utilizing an Air Dog filter to manage air in the fuel system that can "cause an off-spray" from the injector head and a "bad combustion event. ... Each one of these tiny things together is making it a complete, optimal solution," he felt, to prevent added maintenance -- passive regens, too. "I haven't had to do a passive regen" in any of the outfitted rigs, increasing uptime.
"We haven't had any water issues, fuel filter clogging -- all the things you think about," Hagen added. (While Hagen's not using Clean Air Fleet's specialized fuel purifier -- which filters out particles down to 1 micron -- company cofounders Clint and Kurt Braunel noted their filter will work in tandem with other filters, including the Air Dog, for advanced cleaning capabilities.)
Before the successive rounds of emissions updates in diesels started early this century, noted Clean Air Fleet's Clint Braunel, "getting the engine temperature as low as you could -- that was the name of the game" for the greatest efficiency possible. Now, though, "you want to get it as hot as you can. Idling the truck, just starting and stopping on a mailman route," doesn't produce heat in the system sufficient to burn off soot in the DPF and leads to repair issues long-term, likewise those time-consuming passive regens.
[Related: Practicing the fine art of casting out 'aftertreatment demons' from your diesel]
The Braunels have measured exhaust temperatures in tandem with a fleet in the process of installing their dosing system, using unconverted control trucks whose "exhaust temp out of the DPF was 1,075-1,080" degrees Fahrenheit, Kurt said. "With our fuel treatment and filters and everything in place" trucks with the same spec were measuring 1,100-1,120 degrees. "That 35-40 degree jump" equates to about 4%, he said. "That 4% -- that's your efficiency gain. With a more complete burn, that's more BTU out of the fuel. That's going to show up as more energy, or more heat."
And fewer maintenance issues with emissions systems and injectors, he said.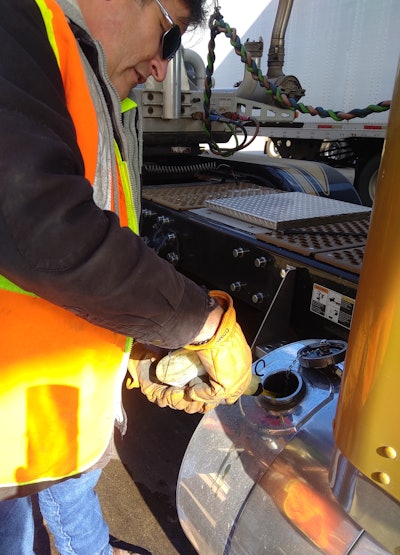 Owner-operator Donald Hatt, headquartered in New Hampshire, treats his fuel year-round utilizing Howes' winter and warmer-weather products. Among his reasons? Beyond the anti-gel properties in winter, he's aiming to "help extend the life of fuel Injectors," among other benefits like consistently added horsepower.
Similarly, owner-operator and longtime Howes user Larry White noted "I never have injector problems and my truck always runs smoothly."
Rob Howes said "deposits that are cleaned up by [warmer-weather] Defender help extend the life there as well. You get better spray patterns. You don't have to replace them as often, and that's also what gives you better fuel mileage because you have the proper spray pattern, you're burning the fuel correctly because it's the right fuel-to-air mixture."
However you're doing it and with whatever, "if you're cleaining the system out," Howes added, "you're buring fuel cleaner, you're going to have less [emissions] output, which means you're going to have less regen cycles required."
Clean Air Fleet's Kurt and Clint Braunel measured NOx output, too, with its treatment and fuel filters in place, and found significantly lower levels "in the combustion chamber," said Kurt, on the order of 40%. The need for DEF is falling as well, with some estimates at similar 40% levels.
Clint Braunel told of a 2023 Ram diesel one-ton owner's run from Washington state to the East Coast and back. Along the way, the owner stopped at a dealer in Effingham and picked up some of the company's fuel treatment, which he started using when he made the turn at his Florida destination to come back across the country on the same route. "He used eight gallons of DEF to the East Coast," Clint said, and just "three-four gallons on the way back."
[Related: Deleting emissions problems without deleting the system]