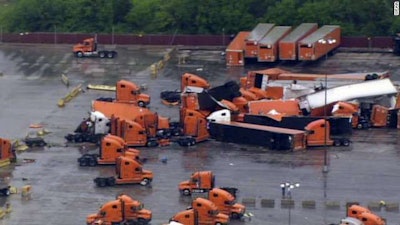 According to a report by the Green Bay Press Gazette, a large Dallas-based Schneider National facility was hit by one of the several tornadoes that touched down in the area Tuesday.
The National Weather Service said two tornadoes touched down in the Dallas-Fort Worth area during the afternoon, and one or both reportedly damaged trucking yards and truck stops in the area.
Videos from MSNBC and CNN show what appear to be a Schneider National terminal being hit by one of the tornadoes. Both videos also show subsequent damage at the facility. Our calls to Schneider were not immediately returned.
This photo gallery from the Kansas City Star has shots from what appears to be the Schneider facility, though the captions labeling them as from a local Flying J appear to be in error.