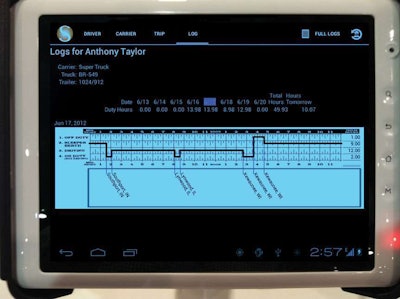 That's the tagline of the newly created Sable Truck Systems, founded by Bill Taylor, a former owner-operator and small-fleet owner, who thought up the design and functionality for Sable's EOBR (which, in physical form, is that of an Android-powered tablet) while hassling with a standard EOBR his former carrier made him use.
Not only was it too complicated, Taylor says, it cost $60 a month for the service. "Why don't you just put this on a tablet," he says he thought at the time. "Well," he says, "you can't just make an app, you have to have a device that's DOT-compliant."
So, he followed protocol, studied the EOBR mandate on the books and came up with a device that is compliant as an electronic log.
Now, as opposed to selling EOBRs and service, his company is simply selling tablets, albeit with fully functional EOBR and PC Miler routing functionality, the latter of which Taylor says 97 percent of fleets use already to instruct drivers on routes.
The tablet also comes stocked with other native Android apps, including a music player, email clients, web browser and so on. Any other Android-capable apps can be downloaded from its Google Play app market, too, like Netflix, Hulu and Kindle apps for watching movies and tv shows and reading books.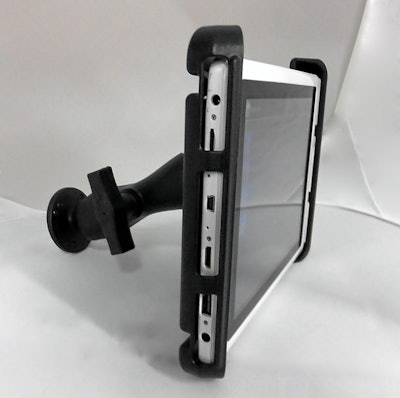 And unlike his former EOBR, there's no monthly service charge, he says. Drivers can opt for 3g cell service from T-Mobile or AT&T, but it is strictly optional — the device's log records are derived from GPS connectivity, which is free, and Wi-Fi connectivity is standard.
"I wanted to make the whole thing operator friendly," Taylor says. "From pulling it out of the box to using it. [The tablet] is basically plug and play."
The tablet is also compatible with standard scanners, printers, fax machines, too, and Taylor said Sable has partnered with Ram Mount to offer dashboard mounts with the tablets.