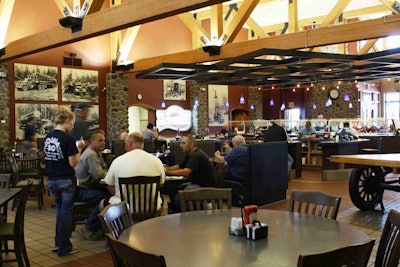 I always enjoy watching a program on television that fires up the "hey, I've been there" electrons in my brain. There's just something exciting about seeing familiarity on the flat-screen. It's even better when you have a personal relationship with the subject being featured.
Another opportunity for my excitable standard "been there" announcement to my somewhat less excitable wife and kids is just around the corner.
Iowa 80 Kitchen will be among truck stops eateries featured in an upcoming episode of the Travel Channel's "Food Paradise" television series.
According to release from Iowa 80 Truckstop, filming took place in Walcott, Iowa on August 20, and the film crew interviewed customers concerning their favorite Iowa 80 dishes as well as "why they keep coming back." "Drivers appreciate the home-cooked meals they can order from our menu. They also enjoy the buffet and the wide variety of salads we offer," said Bill Peel, Iowa 80 Kitchen operator, in the release. "Our apple dumpling seems to be a big hit, too."
The Peel family has been running the Iowa 80 Kitchen restaurant since partnering with the Moon family, who owns and operates the truck stop, in 1964.
The episode, titled "Truck Stop Paradise," is expected to tentatively slated to air in the first quarter of 2013, according to Caryn Davidson, a media representative with the Travel Channel. She said filming for the episode will wrap up in October.
Davidson said R-Place Family Eatery in the TravelCenters of America in Morris, Ill., Berky's Restaurant inside the Lee Hi Travel Plaza in Lexington, Va., Johnson's Corner Restaurant inside the truck stop of the same name in Johntown, Colo., the Wheel Inn Restaurant and Truck Stop in Cabazon, Calif., among others are scheduled for the episode.