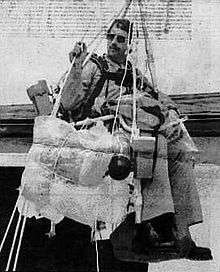 You have to love the heart and spirit of true free-thinkers. Instead of "I can't," they are the ones who always consider the "why not?"
That was the mindset of Larry Walters, a North Hollywood, Calif., trucker who, in 1982 at age 33, captured the attention of all Americans who dare to dream big. But being a true pioneer has its price: He also captured the attention of law enforcement and the Federal Aviation Administration.
I came across Walters' little adventure while doing research for another story and wondered how many of you may remember the event that earned him a place in American folk history. His endeavor has been copied since, but he is the original Lawn Chair Pilot [or Lawn Chair Larry if you prefer the more noble title].
On July 2, Walters strapped more than 40 helium-filled weather balloons to an ordinary patio chair and launched himself into the skies above his San Pedro neighborhood. He carried with him something to drink, a portable CB radio, camera and B.B. gun. When his ground crew (wife and friends) untethered Walters' homemade flying contraption that was dubbed "Inspiration I," he ascended at an estimated 1,000 feet per minute, causing him to lose his glasses but not his determined spirit. Hitting a top altitude of approximately 16,000 feet, he calmly floated over the area while talking his with very worried and excited wife and REACT, a CB monitoring organization for the duration of his 45-minute flight.
The flying lawn chair was spotted and reported by Delta and TWA pilots when he drifted near a commercial airport in Long Beach. The FAA was not amused with the stunt and soon after Walters crashed unharmed in some power lines trying to land, the officials begin debating on the charges.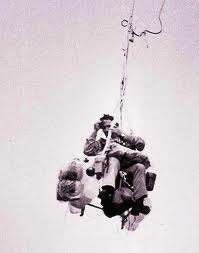 "We know he broke some part of the Federal Aviation Act, and as soon as we decide which part it is, some type of charge will be filed," a regional safety official told reporters. "If he had a pilot's license, we'd suspend that. But he doesn't."
Originally fined $4,000 by the FAA, bargaining between Walters and the agency finally settled on a $1,500 fine. "If the FAA was around when the Wright Brothers were testing their aircraft, they would never have been able to make their first flight at Kitty Hawk," commented Walters afterward.
Walters enjoyed some measurable fame appearing on late night shows with Johnny Carson and David Letterman. He also appeared in a Timex watch advertisement and got a few gigs as a motivational speaker.
Looking back, Walters' flight was more than just a whim. He came up with the idea as a teenager when he spotted some weather balloons in an Army surplus store. He tried to join the Air Force to become a pilot, but poor eyesight ended that avenue to the skies. He instead joined the Army and was a Vietnam vet. And later when he became a truck driver, he finally put his plan into action. Though some may have considered his endeavor a bit bizarre, I think he was inspired.
Walters has been honored in theatre, song and even hinted at being the inspiration behind the popular animated movie, "Up," about an elderly man who used balloons to move his house.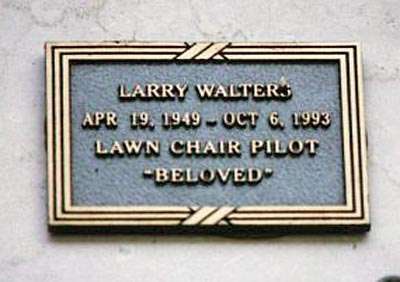 Sadly, it was 19 years ago this coming week that Walters took his own life. Still, he left a legacy. He dared to dream and to do something about it. Following his arrest, a reporter asked Walters why he did it. He reportedly answered, "A man can't just sit around."
That's about as American as it gets.