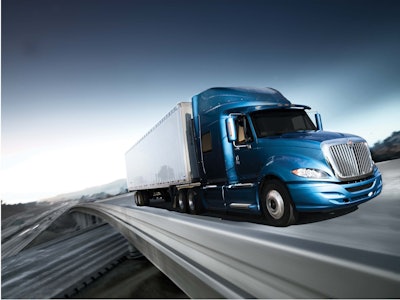 If you've ever dreamed of having a new truck built just for you with all the bells and whistles you've ever dreamed about, here's your chance. Navistar International announced the availability of its new redesigned online truck configurators for International ProStar, DuraStar and TerraStar models on Internationaltrucks.com. The company says the configurators allow customers to virtually design, build and customize their International Truck's cab, exterior, interior, powertrain and more. When complete, users may request a pricing quote, schedule a test drive with their local dealer, share their spec'd truck with their local dealer or view new and used truck inventory meeting their specifications. In the coming months, Navistar plans to offer configurators for additional models in International's lineup of Class 4-8 commercial trucks, including the International WorkStar and LoneStar. Customers now can spec' their International ProStar, DuraStar and TerraStar models by visiting www.internationaltrucks.com/buildmyprostar, www.internationaltrucks.com/buildmydurastar and www.internationaltrucks.com/buildmyterrastar, respectively.
Mobile Awareness wants to make customers even more aware of their surroundings. The company has expanded its line of dash cameras and digital video recording systems for commercial trucks. Various models feature basic "forward view" recording, driver and forward recording and multicamera recording solutions. All choices allow for loop recording and for recordings to be transferred easily via password-protected SD cards or 4G cellular communication. Nico Cottone, vice president of business development for Mobile Awareness, says both large fleets and owner-operators can use the systems to prevent being the target of a fraudulent accident claim. "These systems offer the chance for objectiveness instead of hearsay," Cottone says.
Now here's a cool catalog for those who's crazy about a sharp-dressed truck. Hogebuilt says its 2014 product catalog features its comprehensive line of stainless-steel fenders with a variety of styles, including quarter, single, half-tandem and full-tandem. Hogebuilt offers fenders in 304 mirror-finish stainless steel, 430 mirror-shine stainless steel and aluminum, all of which feature the company's three-inch side flange. Hogebuilt's catalog, available online and in a traditional printed version, features the company's new bright annealed BA500HT and BA505HT half-tandem fenders.
Hadley didn't drop the ball with its drop-and-hook innovations. The company received the 2013 North America Frost & Sullivan Award for Customer Value Leadership for its SmartValve offering designed to reduce the time needed for drop-and-hook operations. The electronic height control system integrates the sensor, electronics and valve in a compact single device and offers multiple lever lengths for a wide range of tractor-trailer combinations.
What's in a name? Apparently everything aftermarket to Mahle Clevite, which changed its company name to Mahle Aftermarket Inc. The company says the change was made to bring itself in line with all of the Mahle Global Aftermarket divisions and to highlight Mahle Aftermarket's diverse product mix. Mahle Aftermarket will continue to focus on growing its brand portfolio of Clevite engine bearings and heavy-duty engine parts, Victor Reinz gaskets for the North American aftermarket and Mahle Original engine parts, filters, turbochargers and thermostats.