Vehicular batteries are technological marvels. But for all our dependence on them in both commercial and consumer applications, they largely are forgotten or ignored – until they fail, of course.
For most of the past century, automotive battery development has been slow and steady, with most of the resulting improvements focusing on longer maintenance-free life.
Now, all that is changing: Rising fuel prices, anti-idling laws, alternative-drive vehicles and an exponential boom in the power requirements on commercial vehicles all are driving more battery research and development.
Experts say the next generation of truck batteries will be smaller and lighter with greater energy storage capacity. Moreover, these batteries will be smarter: They will be able to control and prioritize energy consumption while automatically counteracting temperature extremes. Consider this: Cold-weather starts soon may be alleviated by batteries intelligent enough to warm themselves on a harsh North Dakota morning before a key turns the ignition.
Some of the leading batteries on the market today are absorbed glass mat units that have additional storage capacity and power density to handle new trucks' complex electronic systems.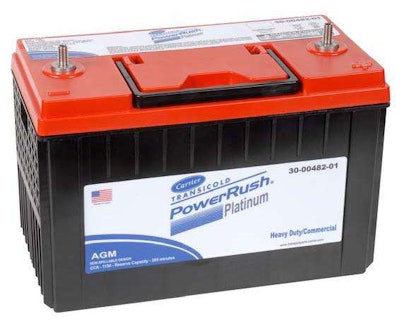 Carrier PowerRush Platinum: Carrier's PowerRush Platinum AGM battery is designed to provide higher performance and longer life than conventional 12-volt wet-cell batteries. Absorbed glass mat technology is used to provide 1,150 cold-cranking amps of high starting power, deep cycling ability and added cold starting performance. The pure lead battery is engineered to retain more power in low temperatures.
Carrier Transicold, www.trucktrailer.carrier.com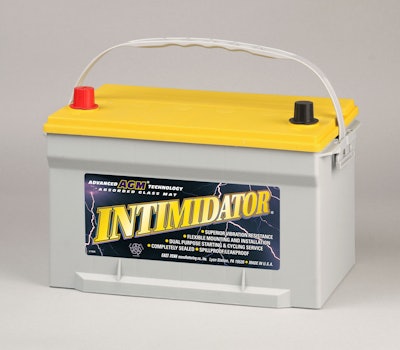 Deka 65 Intimidator: Deka's 65 Intimidator AGM battery line is designed to handle severe driving conditions, frequent stopping and starting and power for electronic devices. The battery is built with a tightly compressed structure and a reinforced internal design that helps protect against intense vibration while providing added starting power. The unit also has a sealed exterior to help resist moisture and a flat-plate design for added cube space.
Deka Batteries, www.dekabatteries.com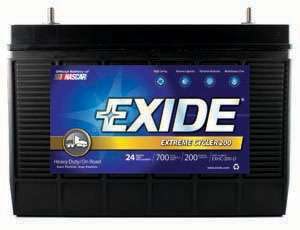 Exide Extreme Cycler: Exide's Extreme Cycler 200 battery is available with 700 cold-cranking amps and 200 minutes of reserve capacity for no-idle demands. The flooded product is a bridge between the company's pre-existing Group 31 product lines and its valve-regulated RoadForce AGM-200 battery. Design elements include flooded epoxy anchor bonding, a reinforced ribbed case, heavier terminal connections, screw-in caps with rubber manifold venting and oversized cast-on straps.
Exide Technologies, www.exide.com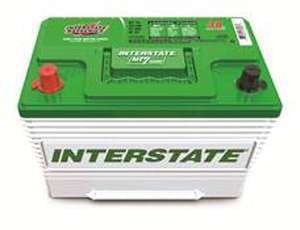 Interstate MT7 AGM: Interstate's MT7 AGM battery is designed to accommodate the cycling demands of additional devices such as cellphones, backup sensors and GPS navigators. The battery, available in group sizes 34, 65 and 78, features the company's Pure Matrix Power, a 99.99 percent pure nonalloy lead in ultra-thin plates. The unit also is leakproof, vibration-resistant, maintenance-free and installable at any angle except upside-down.
Interstate Batteries, www.interstatebatteries.com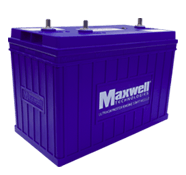 Maxwell ultracapacitor: Maxwell's ultracapacitor is designed to replace one or two truck batteries and help start a truck. The dry maintenance-free unit is built to protect against no-starts by storing electricity on metal plates rather than through a chemical process, making it less sensitive to temperatures ranging from 100 degrees Fahrenheit to below 0. The unit offers less resistance to current flow, enabling it to crank the engine faster by storing enough energy for three potent 4-second cranking cycles.
Maxwell Technologies, www.maxwell.com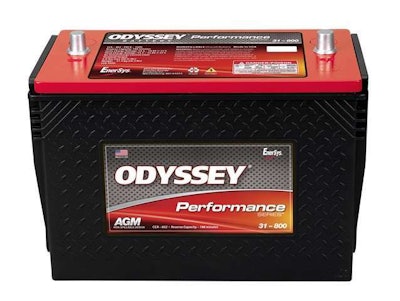 Odyssey Performance Series 31-800: The Odyssey Performance Series 31-800 battery from EnerSys is built to handle the increase in onboard accessories in today's heavy-duty vehicles. The unit is engineered to provide 802 cold-cranking amps and a deep-cycle capability of up to 400 cycles at 80 percent depth of discharge. The nonspillable battery is designed to resist vibration and has a two-year storage life at 77 degrees Fahrenheit.
Odyssey Performance Series Batteries, www.odysseybattery.com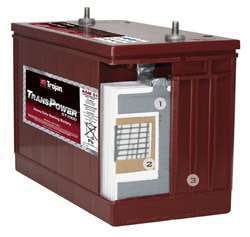 Trojan TransPower ST1000 AGM: Trojan's TransPower ST1000 heavy-duty starting battery is designed to provide 1,000 cold-cranking amps. The sealed maintenance-free AGM 31 battery has an advanced paste formulation to optimize density, porosity and surface area, and a heavy-duty plate design and thick wire grid design to resist corrosion and extreme weather conditions. The unit's polypropylene case keeps its internal components compressed and helps protect against shock, vibration and chemicals.
Trojan Battery, www.trojanbattery.com