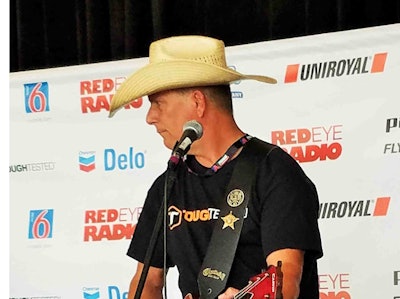 Longtime trucker/singer-songwriter Bill Weaver recently released the video above for his "Bull Haulin'" track, in anticipation of his "Burnin' the Old School Down" record, out now and available via Weaver's own website and soon to come to other music retailers. The video is a collaboration with Texomatic's James "Tex" Crowley, and nothing short of a tour de force.
In well under a week, it had garnered 150K views on Facebook, among other spots (and many more since), spurring brisk pre-sales of the CD, according the the Arkansas-based owner-operator leased to Heniff Transportation. Crowley, for his part, a former trucker and current video content provider, whose specialties range from trucking and cattle to racing cinematography, is purported to have driven 1,700 miles throughout rural Texas to obtain the footage which underscored Weaver's paean to the American cattle hauler.
The Flippin, Arkansas-based tank operator explained that the song was inspired by conversations with two actual livestock haulers who work with D.J. Hauling and Evans Cattle Company, one Jerry "Alpaca Man" Novak and Chuck Pruitt, who, according to his friend Novak, is known throughout the American cattle-hauler subculture as "Sheepshewana."
Weaver explained to me that it was his goal to bring the pride of being a working man to his music, ala Merle Haggard. The first line of the song — vintage Weaver, in fact — references manly footware:
He wipes off his feet and climbs in the seat of a big ol' W-9
Any bull hauler knows you gotta keep the doors closed, just to get 'em there on time
According to Mr. Weaver, the song was put to music by veteran guitar virtuoso Don Stevens of The Stone Creek Four, his touring band. It and the rest of the new record was recorded in Covington, Georgia, at the Tunedesigner studio, and was produced and mastered by John Johnson. Its stylistic blend draws from the vintage truck song tradition, ala Red Simpson, with a Duane Allman edge.
To this gearjammer, this Weaver/Stevens collaboration song eclipses anything I've ever heard from Bill, or most anyone for that matter. It's as if he's found a new gear.
Praise for Mr. Weaver's anthem extends from longtime music journalist, author, and National Public Radio commentator Meredith Ochs, who notes, "Bill writes these songs about and for professional drivers, but everyone should hear 'Bull Haulin'. Most people outside the transportation industry don't know what it takes to get their steak on the plate. Bill's song gives insight into cattle hauling, but he also introduces you to the driver with descriptive lyrics about life behind the wheel — the physical toll it takes on the body, the natural affinity these guys feel for the job, and the conflict between wanting to put down roots and the lure of the road."
To hear it, just watch the video at the top of this post, of course, or better yet, come to the Great American Trucking Show in Dallas, Texas, next week — August 23-25, Weaver will be performing the song live with The Stone Creek Four at that Texas-size tailgate party know as the TA Petro Parking community. The community boasts over 600 free parking spaces, free shuttle service to the show, shower facilities, Texas barbecue, and free concerts every night with an artist lineup featuring Tony Justice, Brad James, Taylor Barker (who will also be teaming with The Stone Creek Four), Jordan Rainer, Ken Freeman, and yours truly. See the working schedule (all times p.m.) below:
8/23, Thursday
Paul Marhoefer, 7-7:45
Taylor Barker, 7:45-8:30
Brad James, 8:30-9:15
Stone Creek Four, 9:15-10
Bill Weaver, 10-11
08/24, Friday
Paul Marhoefer, 7-7:45
Brad James, 7:45-8:30
Stone Creek Four, 8:30-9:15
Ken Freeman, 9:15-10
Bill Weaver, 10-11
8/25, Saturday
Paul Marhoefer, 4-4:30
Taylor Barker, 7-7:30
Brad James, 7:30-8
Bill Weaver, 8-8:30
Tony Justice, 8:30-9
Jordan Rainer, 9-10:15
Stone Creek Four, 10:15-11