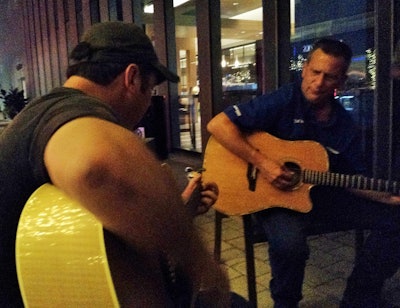 The Great American Trucking is under way today, and I can't remember a better beginning to it for me than this treat, served up to several of us, including my friends the Parkers and an untold number of hangers-on, those who just so happened to walk outside the Omni hotel here in Dallas to catch the spectacle you'll hear in this podcast, trucker/singer-songwriters Tony Justice and Bill Weaver running through originals and several crowd-pleasers in an impromptu, unplugged front-porch sound session.
Stay tuned for more from the show, of course, as more formal events get under way. Music-wise, we'll be live-streaming a variety of performances on Overdrive's Facebook page, if all goes well — Australian Jayne Denham (you'll recall I wrote about her here), Weaver and Paul Marhoefer and, of course, this year's Trucker Talent Search finalists Will Perry, Jason Lee Wilson and Keith Snyder.
Follow all the coverage of the show via this page.
Podcast: Play in new window | Download