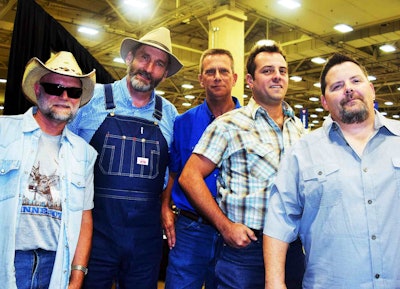 On the heels of trucker/singer-songwriter Tony Justice's big show Friday night at the Great American Trucking Show, likewise stellar performances by this year's three finalists in the Overdrive/Red Eye Radio Trucker Talent Search, Saturday brought this round of performances from those three plus two more.
Truckers Bill Weaver and Paul Marhoefer, both past participants in the TTS competition, spent Thursday and Friday night out at the hospitality area at Dallas' Fair Park with a couple open-mic rounds. Saturday, they joined Trucker Talent Search winner Jason Lee Wilson and fellow finalists Keith Snyder and Will Perry for this hour-long show at the Kay Bailey Hutchison Convention Center featuring brief performances from each among the diverse group.
It's clear a great time was had by all. Catch each of the performances via the playlist above or in succession via the podcast player below. More great "Music to Truck By," without a doubt.
Podcast: Play in new window | Download
Following find links to more about each of the songwriters featured: