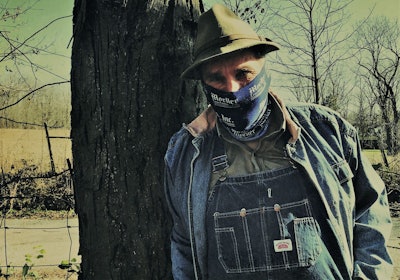 Carlin Shank used to sell fat hogs to my dad. A retired Air Force veteran, Carlin returned home in the 1970s from Southeast Asia hoping to secure a farm loan. He would learn there wasn't a bank in Wayne County, Indiana, that would help him. The stated reason was that returning vets typically failed at farming. Still, having grown up on an Indiana dairy farm in the throes of the Great Depression, Carlin was no agrarian greenhorn.
Borrowing $10,000 from his mother, he purchased some Poland China sows, a Hampshire boar and some portable buildings. He went to raising hogs. Around here, they used to call hogs the "rent payers and mortgage lifters."
By the time my wife, our four children and I moved to Wayne County back in 1994, Carlin was an established cattleman. He was the quintessential Indiana farmer. To look at him, you'd never thought he had a dime. He was a man void of airs and duplicity. Always keen for a bargain, he once told me how he hated it when our family's packing house shut down in '78.
"You could buy those broken hot dogs they sold to the farmers for next to nothing," as he put it.
Last week, with a reefer load bound for northern Indiana, I passed by the Quaker churchyard near my Wayne County home. Glancing over, I saw Carlin's sons, among others, bearing his casket to its final resting place. The cause of death was COVID-19.
Carlin was welcoming to us when we first moved to the Indiana countryside. Always cordial, and a great neighbor. He was 87.
I got parked up at the usual spot and Denise swung by to pick me up. It would be a rare home-cooked meal. Having about an hour to play with, I wondered whether we should swing by the churchyard and pay our respects. Denise had been told the funeral was a "family only" event, due to the pandemic. About the time lunch was over, a text came in from Shoestring Waugh. A mutual friend, John Runyon, had also died of COVID-19.
Dang. Wasn't he, like, 40?
It was a lot to process. All inside the space of an hour.
John Runyon was a young and brilliant entrepreneur who had purchased an historic music venue on the main thoroughfare through Redkey, Indiana, after its owner had passed. The Key Palace Theatre, in its heyday, had hosted Muddy Waters, John Lee Hooker, and B.B. King, among many others. An early-20th-century movie house, "The Key" was constructed in a way that lent itself to optimal acoustics. It took a lot to bring the old edifice back from the point of ruin, but John was no stranger to hard work. Soon the place was hosting all kinds of acts, including blues virtuosos like Anthony Gomes, and Watermelon Slim.
Four years ago, I told Shoestring, "Man, I would love to do a show there!"
"Why don't you just go in there when the restaurant is open and sing him a song or two?" he said. So I did.
We wound up headlining The Key three times, as well as opening for Watermelon Slim. John Runyon was one of the good guys. He made being alive just a little easier. The meaning of his loss for our community remains unfathomable. He died on his 43rd birthday.
If this pandemic hasn't become personal to you yet, recent trends suggest it will soon — and I hate how grim that sounds. With graphs of recent cases indicating exponential, if not vertical, spikes, it seems now inevitable that either new safeguards will be put in place (as they already are in many locales), more people will be infected, or both.
If you're still in the camp that views the right to not wear a mask in any public place with the zeal of a true believer, you're not alone. My visits to truck stops, at least along the I-75 corridor, indicate that barely half of drivers are complying with the posted signage requiring masks. Let's face it: Who is going to call you on it? The coffee hostess? The shower attendant? The 19-year-old kid at Arby's? As Anthony Fauci recently remarked on a Sunday show, many Americans simply don't like being told what to do.
That said, what about those truck stop workers? What are their rights? Who looks after them? Who ensures that they're not infected when half of their clientele are breezing in and out from God knows where?
I'm not going to show you the latest CDC report, which suggests that masks protect the wearer as well. Nor will I mention how the virus has nearly been eradicated in Australia by tight restrictions on travel, a detailed coordination with health experts and the weekly testing of OTR truckers.
What I will proffer, though, is the 2020 version of Pascal's Wager. That's why I wear a mask.
Some time in the 17th century, Blaise Pascal postulated that either God is, or God is not. If a person lived as if God existed, her gains would be infinite (that is, heaven) and her losses would be finite (missing out on carnal pleasure, for instance). If one believed that God is not, and lived accordingly (that is, a life of sensual pleasure, breaking the Ten Commandments), gains would be finite, but potential losses could be infinite (hellfire and damnation).
So, even if I don't fully believe what health officials say about masks, but comply anyway, I will incur some discomfort, but I may possibly save some poor truck stop employee's life, not to mention that employee's family and coworkers.
Thanks for reading. I can be reached via email or at 765-294-1050. Important: Be sure to leave your number on the voicemail if I don't pick up.
Grant Peeples will take us out: