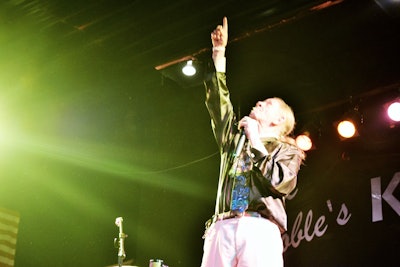 This past weekend, Feb. 2, 2019, longtime blues singer-songwriter and harmonica and master dobro player Bill "Watermelon Slim" Homans stopped at the Key Palace Theater in Redkey, Ind., on his tour in support of the new "Church of the Blues" record. The video above captures the opening of the first of two sets he played that night, featuring his own tribute to "A People's History of the United States" author and historian Howard Zinn and the "Hard Times" track from Slim's 2006 album with his then-band "The Workers."
Slim's "Escape from the Chicken Coop," released a few years after, has been lauded as a 21st-Century classic of trucking music, featuring themes and subject matter pulled from his nearly two decades behind the wheel.
Slim's touring continues with a date in Indianapolis tonight and further shows through June in the U.S.
And speaking of Marhoefer:
The milk hauler, Overdrive Extra blog contributor and singer-songwriter opened Watermelon Slim's show at Key Palace, with a set mostly made up of original tunes. He was joined by New Castle, Ind., luthier (Stocktone Customs) and master slide player Sherman Stockton.
The two tracks shown in the video include Marhoefer's recent paean to fellow milk haulers as well as his "That's why I drink," with which regular Overdrive readers will be familiar from past coverage of his Trucker Talent Search and other performances of recent years.
Catch his writing for Overdrive via this page to his author page.