U.S. Bank's Freight Payment Index, which charts the number of total shipments as well as rates in the contracted freight market, noted that Q2 2023 marked the second straight quarter of declining rates. With shipments and rates, respectively, having contracted 9% and 10.9% year-over-year, carriers find themselves in a more competitive and more financially pressured environment than they have in years.
As freight rates decline and loads become more competitive to win, I wanted to share six strategies that we have seen small carriers pursue to survive and thrive in a challenging market.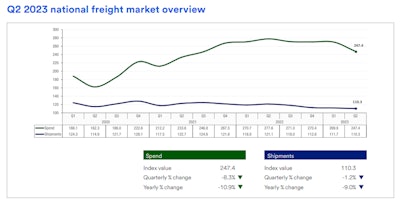 If there's one constant to all of these strategies, it's that in a down market, you must find ways to compete on factors other than the rate per mile. When you're competing on price, you're a commoditized service. When freight markets and rates are down 10%-20% across the board, price wars are extra-punitive and can evaporate your bottom line. Don't be afraid of a small niche -- the smaller the niche, the less competition you will often find. Become excellent at one profitable service, and then worry about scaling when markets recover.
[Related: Werner CEO shocked by small carriers' resilience through tough freight market]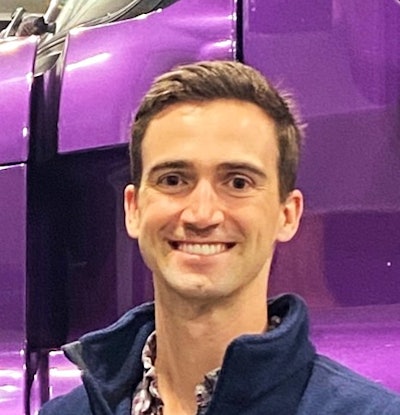 You must be able to win dedicated lanes and repeat customers to build business that's sustainable. When you live fully off load boards, you are more easily replaceable and more likely to compete solely on price/rate. When you have more repeat business, you're more able to establish your niche and differentiate on factors other than your rates (e.g., on-time performance, trust, etc.).
That said, winning high-quality contracts can be challenging for small carriers. You might consider steps to increase your professional image, such as building a website, investing in internal live tracking tools, or providing a customer portal via a transportation management software (TMS) system.
[Related: Direct freight: Delivering a modicum of consistency in a turbulent market]
2. Find a niche where you're known as the go-to carrier.
Whether it's a specific lane that you have a credible track record serving, a certain freight type that requires specialized expertise, or a specific type of shipper you serve particularly well, determine which narrow niche you can serve and carve out as your own.
When you are known as the go-to provider of milk transport in Minnesota and Wisconsin, for example, you'll be the first call on consistent loads, which is the most cost-effective way to grow. Because your customers know you are the one to trust to deliver reliably every time, you'll be able to compete on quality over lowest rates.
Overdrive's "Niche hauls" collection of features offers a variety of information about freight and/or operational niches where owner-operators and small fleets are prominent. See more via the link.
3. Improve your rating with trusted brokers by offering tracking on 100% of your loads.
Most large brokers have systems for tracking carrier ratings. There are numerous factors that contribute to these ratings, but on-time performance and live tracking coverage are two of the largest factors easily within your control. When your on-time performance is 99.99% and you have live tracking on 100% of your loads, you can compete on quality and reliability and not price alone. You're likely to get better rates and have a higher likelihood of winning dedicated lanes.
Efforts to achieve the best performance metrics possible could benefit from the help of a TMS platform that offers live tracking to customers – third-party driver tracking apps can be more error prone. If you're not using a TMS, we suggest you start with one, as the ROI will be many times higher than the cost if it helps you demonstrate reliability to brokers and shippers.
[Related: ELDs/location tracking making brokers more annoying? Or more efficient]
4. Cut unnecessary admin work by >30% by eliminating manual check calls.
Use software that can automate relevant customer updates, such as when an operator is loaded or when a load has been delivered. Customizable check call automation helps you do more with less. Consider this: what is the time and cost of your dispatch team responding to check calls? We have seen 30% of the admin work at small fleets filled with monotonous status updates between drivers, shippers and brokers.
Instead, let your dispatchers focus on building customer and operator relationships. It will not only improve your operating efficiency, but will make your drivers, dispatchers and customers happier. Your business will appear professionalized, and that will help ensure stronger relationships that won't be easily unseated as freight rates drop.
5. Laser-focus efforts around safety and compliance.
Beyond ensuring we're creating safe environments for our drivers and those around us, the financial implications of lapses in safety and compliance can crater a small carrier. FMCSA fines can range up to the hundreds of thousands of dollars, particularly when a carrier's lapses involve hazardous materials compliance.
Moreover, safe operation means better insurance rates, as insurance providers such as Cover Whale, among others, can now take ELD and dashcam data into account when writing policies, an advantage when you can demonstrate consistently safe operation. For the small fleet owner, providing continuous feedback to drivers and ongoing situational coaching based on dashcam footage can have a compounding effect on the profitability of your business. Every dollar counts in a downturn, and safe driving combined with detail-oriented compliance can make a big difference.
[Related: Usage-based insurance: Trucking's best-kept secret?
6. Drive down empty miles and/or solve for "smart" empty miles.
Driving empty trucks can be a painful cost for any carrier. Spend time strategizing your route management so as to limit deadhead as much as possible, such as investing in customer relationships that complement one another on outbound hauls and return loads. When successful, that can also allow you to charge somewhat lower prices to each one, given you'll have high quality freight to haul both ways, thus more consistently beating out competitors.
Another tack is to focus on such a highly specialized one-way freight type that the rate premium dwarfs any returning deadhead. Competing carriers of yours may overlook this strategy and write it off as "wasteful" and too costly. As a result, certain specialized freight and lanes can prove extra lucrative. Thus it's important to keep in mind that not all empty miles are created equal.
[Related: 'The spot market is not where you need to live': On building business with authority]
---
Owners looking for additional strategies toward direct freight or other sustainable business models, among a myriad of other topics, can find more in the Overdrive/ATBS-coproduced "Partners in Business" manual for new and established owner-operators, a comprehensive guide to running a small trucking business. Click here to download the 2023 edition of the book free of charge.