If the thought ever crossed your mind to try to knock down a security barrier with your truck, here's some evidence that may change your mind: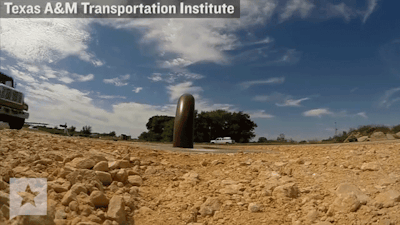 This .gif, from the Texas A&M Transportation Institute, was put together from an in-the-field research project, part of A&M's contract with the State Department. The Institute has been tasked with testing the security devices, which are installed around the world at U.S. government buildings, against potential terrorist attacks.
If the .gif above and the photos below are any indication, the security posts are up to the job.
According to a story by Wonderful Engineering, the post used here was 24-feet wide and buried 18 inches in the ground. And it stopped the truck's bed from making it past the barrier — the variable in test. The barrels here were supposed to simulate explosive materials, WE notes in its story.
The truck was moving at 50 mph when it made contact with the post. The tests were conducted at the TTI's proving grounds.
Here are more photos from the test: