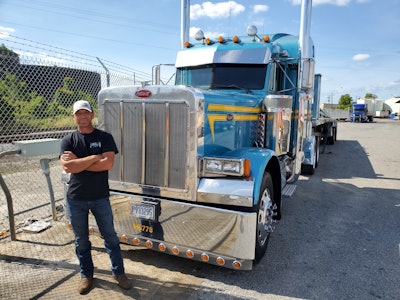 Owner-operator Wesley Ward Sr. will be among those highlighted Friday on "Overdrive's Music to Truck By: Today's tunes from the men and women behind the wheel."
"Wes calls his truck 'Prayerbilt,'" said "Big Al" Weekley, host of the two-hour program on TheBluegrassJamboree.com that airs at 10 a.m. Eastern each Friday.
Ward, who is leased to CRST, pulls flatbed with a 2004 Peterbilt that he has remodeled. "He calls his truck 'Prayerbilt' because he prayed about and over the truck," Weekley said. "He has faith in God that all will work out. Also it acknowledges to everyone that God is in control."
You can see photos of the truck at the #prayerbilt page on Facebook. One shows a photo of the truck with a red cord across the front/top of the grille. It represents a Passover passage from Exodus 12:13, where the Hebrews were instructed to put lamb's blood over their doorposts.
"Overdrive's Music to Truck By" features music by and about truckers on the show, as well as other country and bluegrass tunes. Weekley also airs news and music-related feature contributions from Overdrive.
The program can be streamed live from the home page of TheBluegrassJamboree.com. You can also listen to it via tunein.com and onlineradiobox.com or those sites' associated mobile apps. It can also be streamed through Bluegrass Jamboree mobile apps for Android and iOS devices.
"Overdrive's Music to Truck By" will be rebroadcast Wednesday, May 19, 1 a.m.-3 a.m. Each program is available for streaming for two weeks at Bluegrass Jamboree after the initial airing. Catch last week's episode for May 7, a Mother's Day special, via this link.