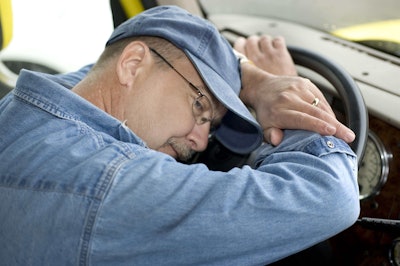 With the holiday season here, Indiana-based therapist Buck Black says it's the time of year when his calendar for client sessions books up. Black, founder of TruckerTherapy.com,says that for truckers, the wintry weather, lack of sunlight and possibility of not making it home in time for the holidays adds additional layers of stress to an already tense time of year. Truckers are not alone in feeling the financial pressure and expectations of the season but are slammed by the extra stressors that come with the job. Black identifies some of the unique factors truckers face:
Problem: You have to be away from your family
Solution: Instead of fixating on the actual calendar date of December 25 or any other holiday dates, let it go and decide to start new traditions your family will treasure. "Celebrating a few weeks before or after is just as good," Black says.
Some alternatives: Skype in the holiday dinner, read a holiday themed story together on the phone, leave small presents to open while you are gone and brainstorm ahead of time ways to stay in touch. 
Problem: You don't have anyone special in your life to share the holidays with 
Solution: Connect with friends or even acquaintances that may also be alone for the holidays. Consider volunteering at a homeless shelter or offering to walk rescue animals. Reach out to estranged family and try to mend fences. If you will be completely alone, do something to mark the day, even if it's treating yourself to a good meal or going to a movie.
Problem: The stress is starting to affect your physical health
Solution: According to WebMD, stress may manifest in physical symptoms such as low energy, headaches, an upset stomach, aches and pains, insomnia,chest pain and rapid heartbeat. Now is not the time to go off your diet or slack off on your exercise routine. Choose healthy snacks and get plenty of rest.