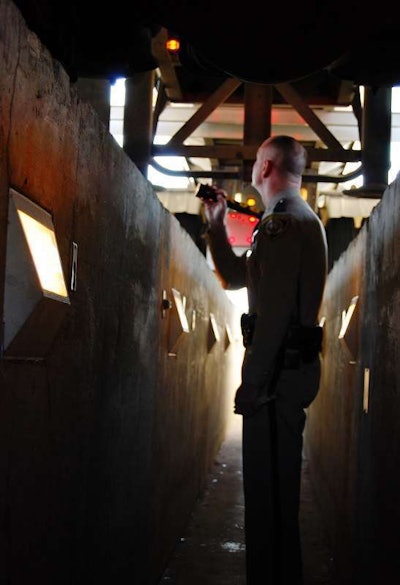 Following public-safety-advocacy group Road Safe America head Stephen Owings' two-year tenure as chairman of the Motor Carrier Safety Advisory Committee, current vice chair Scott Hernandez will assume the chairmanship beginning next year. Current FMCSA Acting Administrator T.F. Scott Darling opened the meeting with this bit of news, during which time he recommended John Lannen of the public safety advocacy Truck Safety Coalition group (you may well recall them from this little bit of unfortunate P.R.). The MCSAC unanimously approved.
Good news is Hernandez, a colonel with the Colorado State Patrol, has been to my recollection a fair broker in his participation in the MCSAC meetings I've attended over the years, here with a clear eye for where most safety problems on the highway lie, arguing for more federal money for traffic enforcement on four-wheelers' reckless behavior around trucks, as I wrote following an earlier meeting:
"Increase the funding cap on traffic enforcement activity from 5 percent to 10 percent." Enforcing traffic around trucks, in the current system, Hernandez noted, is limited for officers operating under a Motor Carrier Safety Assistance Program (MCSAP) grant. With more funding flexibility for the activity, Hernandez added, "motor carrier safety officers can stop cars driving recklessly around trucks — that would allow in an increase in the amount of dollars that could go to those activities."
In any case, the current two-day meeting of the MCSAC just ended as I'm writing this, and I thought you might well be interested in hearing the voice of the current administrator, by way of an introduction, so here's T.F. Scott Darling's own introduction from the meeting yesterday. All the "Go MCSAC" and "Go FMCSA" banter follows introductions committee members offered to start the day, some with favored football teams on the mind, as it were.
Crash-weighting deja vu
FMCSA Associate Administrator for Enforcement Bill Quade, at today's MCSAC meeting during an update on the CSA program, speaking about the long-awaited study on whether and how crash fault or preventability (or other standard) might be considered in CSA scoring metrics: "The report is in final concurrence [stage] within the agency… It's always been our intention to make that report available to the public and open it up for comment. We owe Congress the report first." Timing? Maybe "before Thanksgiving," but definitely "before Christmas," Quade said.
In essence, a month or two out, which all sounded eerily familiar to me.
Here's a segment of my report paraphrasing Quade at the last meeting of the CSA Subcommittee, which I attended in late April in Arlington, Va.:
Associate Administrator for Enforcement Bill Quade said the [Crash Weighting study], it's hoped, will be delivered in June.
Now what month are we in?

An interesting moment came with First Student's Gary Catapano invocation of the late move by so many across many parts of the transportation sector to call for the removal of the computational element of CSA — the percentile rankings, or scores, and associated category "alerts," among other publicly available information. Catapano noted that, "without fixing all the issues that have been raised, in particular in this committee's recommendations, we're continuing to provide information" to the public that doesn't conform to the original intent of the program as an enforcement prioritization tool.
Quade's more or less only response? "We respectfully disagree."