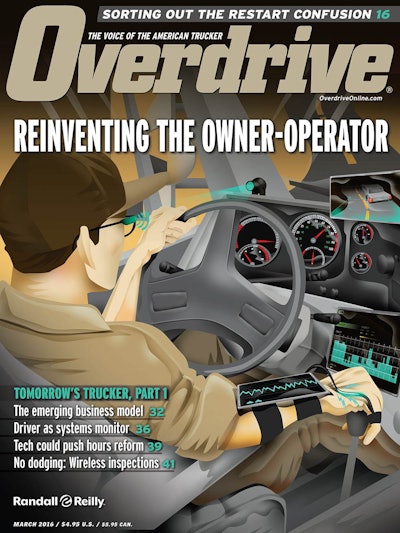 The above podcast is part of my conversation with Gary Carlisle, one-truck owner and manager of the small private fleet of oil and gas services company Agri-Empresa in Midland, Texas. Carlisle will be familiar with regular readers for his frank assessment of the current hours of service rule (read this if you're not). And in many ways, his perspective is a good counterpoint to a lot of the speculation that ultimately comes with attempting to write about the future of the owner-operator in trucking.
If you've missed the "Tomorrow's Trucker" series this week, you can find it here. Carlisle's take on the future is based on the inherent realities for owner-operators over the years. While several observers were willing to describe evolution within the truck-driving force out there, whether company drivers, leased operators or fully independent with motor carrier authority, Carlisle tended to turn back to bedrock characteristics of the owner-operator model that were here to stay, regardless of how change plays out.
For one, and you'll hear this in the podcast, he describes the risk that's traditionally been inherent in the owner-operator business model. To keep busy a small fleet with 30 company trucks, he says, "sometimes you have to have enough business for 40 trucks." Carriers have looked to owner-operators often to haul the "less than desirable" loads. "Owner-operators have always been used in that fashion – they work twice as hard as a driver, really, but they have to live off the leavings."
As noted in the series' story on the business model itself, "Traditionally, owner-operators 'never are 100 percent safe,'" Carlisle says, when times get tough, particularly in an exclusive lease to a carrier with a large number of company drivers and owned assets to protect. …
Based on that verity, if you will, of the past, what's clear to Carlisle is it's fair for operators to expect more-sizable businesses to want to pass on risks as much as possible to individuals as the regulatory/legal areas of the business continue to assume greater complexity. Whether that translates to a boon for the future generations of owner-operators willing to assume the risk themselves as independents, or not, is one of the areas our conversation gets to in the podcast. Others: Bedrock issues of generational shifts, economic cycles and regulation. Tip of the hat to trucker/singer-songwriter Bill Weaver for a bit of his "I'm Rollin'" single from the "Every Mile I Drive" record as the intro music here.
Listen in yourself below.