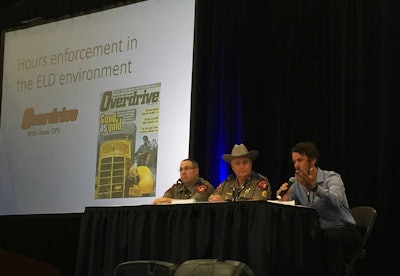 In the podcast player above (and below) listen in on part of my discussion with Sergeant Dana Moore of the Texas Department of Public Safety. Regular readers of my Channel 19 blog sent in questions for Moore, and I distilled them into several areas for Moore: Texas' intrastate status (delayed through late 2019 for in-state haulers), questions around ELD mandate exemptions' determination at roadside, parking/safety, personal conveyance and yard moves, and special cases out there where the rubber meets the road and just how to handle them.
Catch further discussion/reporting from the session in James Jaillet's news from the session, held on Thursday at the Great American Trucking Show:
All in all, "It's a breath of fresh air to hear someone with some common sense" on the subject of ELDs – those were the words of a small fleet owner in the audience after our talk was over and I opened the floor up for further questions of Moore. The Sergeant, over training and implementation of the ELD mandate for Texas DPS, emphasized time and again throughout our talk that the state of Texas planned to "give the benefit of the doubt" to the driver in roadside situations related to questions of whether ELDs need to be used or not, whether the truck and engine are exempt or not, whether the driver qualifies for the air-mile-radius exemption to the hours of service themselves, and etc.
As a general rule, Moore stressed that when officers are unsure of how just to handle a particular case, whatever the case, Texas would likely "punt" on it to get the driver down the road and kick off an administrative review. While that might well result in something like an audit of whatever trucking company is associated with the stop, depending on the circumstances, in general it was refreshing to hear some measured perspective on approach to the "letter of the law" around ELDs.
Also in this Overdrive Radio edition, some relatively good news (see that picture of the Truckstop.com historical load-to-truck ratio below) from ATBS President Todd Amen on the state of freight in the spot market and the trucking economy in general. And: A couple takes from fantastic trucker/singer-songwriter Michael Lochmiller out on the GATS front porch as it were, late Friday.