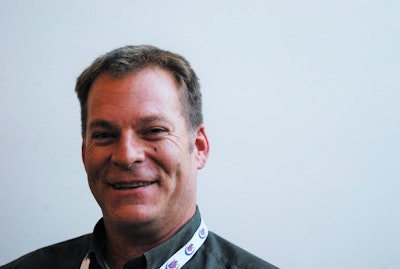 For this edition of the Overdrive Radio podcast, I talked again with nine-truck Frerichs Freight Lines fleet owner Bill Frerichs, based in Illinois near St. Louis. Frerichs was in attendance again this year the annual conference of the National Association of Small Trucking Companies here in Nashville, and we sat down to talk ELD implementation and associated issues. He's in the middle of it now in preparation for the mandate going into effect in some form or fashion a week before Christmas next month. After much back and forth in his thinking about the mandate the last couple years, he finally settled on the Telogis company's ELD system over the BigRoad program he'd been utilizing as a logbook app in his trucks for quite some time. In part, the decision was driven by the ability to capture diagnostic and truck/driver performance data to implement a bonus program spurred by competition among the drivers with the fleet.
Hear his story and more above and here:
Podcast: Play in new window | Download
The aforementioned BigRoad e-log system happens to be the one NASTC has recommended to many of the association's members, in part for its bring-your-own-device-type simplicity. But also, as NASTC's James Caperton outlined in a session at the conference, advantages include two more years of use as an AOBRD, ELDs' regulatory predecessor device.
You'll remember that AOBRDs in use prior to December 18 are grandfathered for two years as the full transition to ELDs takes place. Compared to the very detailed ELD spec, what is required by regulation of AOBRDs is fairly minimal. And when it comes to log editing, while the administrator account holder/back office can edit driver's logs in AOBRDs without the driver's approval – unlike with ELDs – such editing isn't required to be made visible at roadside with AOBRDs. It's important to keep in mind that the originally generated record, however, is required to be preserved by any AOBRD system and is easily discoverable during a company audit/compliance review, just as with ELDs.
At once, a wealth of other information — such as GPS positions, engine on-off records, engine hours and the like — is also not required to be recorded or transmitted to enforcement by AOBRDs, among many other differences that have given somewhat new luster to the devices for small fleets and owner-operators.
Numerous e-log providers offer devices that can be run in AOBRD mode and then switched over to ELD mode when the grandfather period is over in December of 2019, easing the transition in some ways. Providers with such functionality include but are not limited to BigRoad, HOS Reporter, Gorilla Safety and many more.
NASTC chief Dave Owen, in noting the organization's advocacy against the mandate, said he felt it would be a "small victory" if truckers were able to steer the ELD rule toward permanent use of AOBRDs instead of ELDs, if that gives you any indication of just how much more sanguine industry participants are about AOBRDs now that the reality of ELDs is staring owners in the face.
Bill Frerichs worries, too, about the wealth of data recorded and transmitted under the ELD spec in the context of plaintiff's attorneys' improving dexterity at cherry-picking log violations in court cases around accidents, wherever fault truly lies. Take a listen above or at the head of the playlist below.