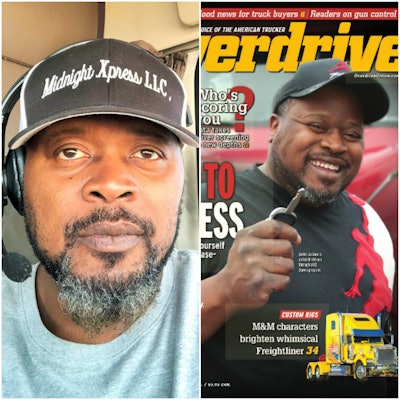 The shots embedded in the podcast player above are of owner-operator Andre Jackson, the one on the right from the February 2013 cover of Overdrive magazine, accompanying a story in which Jackson was interviewed about his work at the time guiding operators in U.S. Xpress' lease-purchase program through to some success. His counsel to them was based in part on a business plan he'd developed and utilized himself toward successfully taking ownership of two trucks over his time there.
The picture on the left is Jackson today, nearly 200 hundred pounds lighter but with the weight of an experience of extreme adversity behind him. He's not letting it slow him down, though — he's one of the thousands who over the last several years have jumped into trucking with their own authority, in his case as a two-truck carrier with partner owner-op Donte Ogletree out of Atlanta. (The Midnight Xpress small fleet is based currently in Bolton, Miss., Jackson's hometown just west of the state capitol on I-20.)
In this week's edition of the Overdrive Radio podcast, Jackson narrates his story of triumph over the aforementioned adversity, what happened to him shortly after that cover photo five years ago the Friday prior to the Great American Trucking Show. He arrived that fateful day in 2013 to load in and stage his truck for participation in the Pride & Polish there and had a massive heart attack. He was nearly was lost.
How he's clawed back after two years of essentially losing most of his mobility and the very ability to take care of himself, well … it's truly a remarkable story. Few stood by him in the years that followed — but his wife, Naomi, as you'll hear, was a sole solid rock pulling him up. It's people like her that hold the world on their shoulders. No doubt about that. Take a listen:
Jackson and Ogletree are paying themselves a bare minimum with an eye toward reinvesting much of the $4K-$5K they're averaging in business income weekly to expand. They have a third truck with a driver lined up for purchase soon, and at the end of next month, if things go according to plan, they'll purchase their first dry van.
They're currently hauling reefer and dry van both off an on, utilizing trailers from a pool – they get a certain amount of use out of each trailer they agree to relocate to another area.