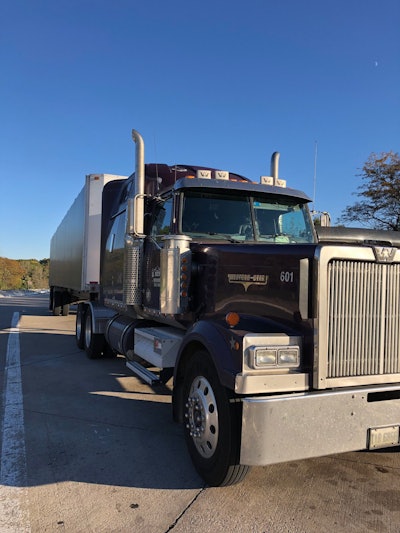 Business services firm ATBS calls it a "dinosaur" in the owner-op world, but once upon a time it wasn't the uncommon model it is today. What's that? Namely, the "two check" system of compensation, under which an owner-op is an employee of the carrier he's working with and then leases the equipment to the carrier.
There's been more chatter about it in the last year and more as fleets of all shapes and sizes in California or with California-based independent contractor owner-ops ponder what approach to take to preserve relationships with owner-ops in the wake of the state's codification of the so-called "ABC" independent contractor classification test. California's newly passed bill establishes that test as the go-to one when determining the appropriateness of the independent contractor classification for workers in all manner of sectors and operations, trucking included. Unless there's clear action in courts or something else that happens legislatively in the state, that will become the law of the land there the first month of next year. Here's my colleague James Jaillet's well-done report on the ins and outs:
In essence, the B part of the ABC test, as we've discussed in plenty past reporting around California and court cases that brought this to the fore, states that a worker who is in the same principal business as the contracting business cannot be an independent contractor.
That's a problem for fleets leasing owner-operators who also own equipment. There are a few ways around it for owner-ops leased to California-based companies or who reside in the state and are leased to a company outside the state. As I wrote last week, one of those involves companies moving to be domiciled outside the state, and/or the contractor moving his principal residence and CDL outside the state.
Another is to get your own authority and continue a business relationship with the formerly leasing carrier's brokerage. Both can be expensive propositions for the owner-operator, not doubt.
The two-check system, too, could be a path through it: While there are plenty unknowns around whether such a model might take off today given California's new independent contractor rules, once upon a time the system was at least fairly common. In today's edition of Overdrive Radio, small fleet owner and OOIDA board member Monte Wiederhold remembers it from his early days trucking and on up through the 1990s in the Midwest where he's based. Take a listen:
One central question in the discussion with Wiederhold: Could a two-check-type system provide a better path toward getting one's feet wet in truck ownership before taking the full reins of the business as an independent with authority? I'm not so sure it'd be much different than what happens today for owner-operators leasing to a carrier, except for perhaps some potential added layer of security in benefits, access to unemployment if the carrier goes out of business, and maybe more.
Overdrive reader and frequent commenter Pat Hockaday believes it would work in just such a way, as he posted under a past story about the machinations in California and abuse of lease-purchase drivers there, and elsewhere for that matter:
The old two check system was a legitimate method of having owners of equipment as employees.
I own a truck that I would lease out to a carrier for a profit. That's one check in my pocket.
The carrier would then hire me as an employee to drive the truck that I lease to them. Check number two.
I would have all the benefits of an employee while having a side business no different than having rental property.
This concept allows an Employee Driver to climb the ladder upwards by then becoming a business owner while being an employee. The next step would be to become an independent and then a multiple truck carrier.
Food for thought.