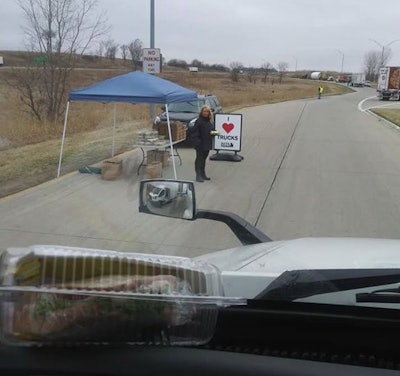 First, three quick things, all hopeful.
Yeah, go figure, right? Seriously, though, if there's anything we can thank the mess we are in for, it's this kind of thing:
1) Via a scale house in Iowa, and this picture I happened upon after owner-op Mandi Jo Pinheiro shared it from Mr. Oliver here's profile on FB:
That's not the only evidence of such professional-driver-support efforts I've seen in recent days.
2) There are sure to be scads of other examples of this one — a fridge in a small fleet's Florida outpost newly stocked with food/goods for drivers heading out over the road in warehouse restocking support efforts.
3) The head of Minnesota-based Long Haul Trucking buying a week's worth of CDL Meals' fare for all 350-some-odd of the professional drivers there who've put in long hours these past weeks to keep customers' freight flowing.
"One of the things we can be thankful for," said Bob Perry, well-known in the trucking community as a personal trainer and health coach, and a partner in the broader CDL Meals effort: "While this is all certainly a tragedy, I get the sense that after all these years, not only the general public but the fleets are starting to recognize the value of America's drivers. Hopefully, when we get on the back side of this, that will continue."
If you haven't heard of CDL Meals — it's part of the operation of Nutrition Corp., purveyor of the Fresh N' Lean brand of prepared packaged meals, all with a focus on ensuring quality, fresh, organic ingredients.
This week on the Overdrive Radio podcast — hear it up top and just below — we check in with owner-operator Ingrid Brown for a front-line take on the life of a produce hauler amid this effort and some extra steps she's taken with a mind to protect herself from potential contagion. And: our own contributor Paul Marhoefer, who narrates his last two stories of life on the road in this crisis and details the latest. He and his wife, Denise, have made a key decision to weather whatever comes out on the road together, a move I know others have made in the face of uncertainty and the necessity of trucking on with renewed vigilance.
Complex times, to say the least, these are. Take a listen: