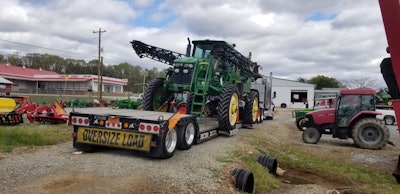 The complications that can be brought on by any over-dimensional load's permitted complexity are many, and they extend to the routes those permits send you down, of course. The bigger or heavier the load gets, the more circuitous and the route more lengthy than it would otherwise be, often enough. It can make for a cumbersome process when it comes to weighing whether the price of any load is worth the effort and cost put in.
Owner-Operator of the Year and longtime heavy/specialized hauler Kevin Kocmich, you can be sure, has mastered such deliberations over his decades in business. Find plenty more about his operation, with an XL Specialized RGN bought used and refurbished and a 2020 Peterbilt 567, and his choices when it comes those load deliberations, equipment and more in this week's edition of Overdrive Radio. Take a listen:
In case you missed it, too: Heads-up to both independents and leased owner-ops — this month is your opportunity to enter the Owner-Operator of the Year program yourself, with a chance to win $25,000. As noted, the contest is open to both leased owners and those with carrier authority, with a stipulation for multi-unit businesses that size should be no more than five trucks and the nominee must still drive one of them in addition to piloting the business. Find links to the nomination form via this story announcing the submissions period, ongoing through the end of August.
Find our May cover story on heavy specialized hauling, meanwhile, including more about Kocmich's operation, via the following story link: