In this edition of Overdrive Radio, take a tour down I-75 in Kentucky in search of an answer to an age-old question: Who has the best nanner pudding among the truck stops along that route, and which one of them was the first to advertise it on the CB?
This week, we run back through some trucking micro-history with our own "Long Haul Paul" Marhoefer via another edition in the Over the Road podcast series, originally produced by PRX's Radiotopia in collaboration with us here at Overdrive.
Each of the independent truck stops profiled in this funny, moving southbound haul of an episode – the 76 Fuel Center, the Derby City South Truck Plaza (exit 62) and the 49er Fuel Center – claim to be the first to have advertised the special decades ago.
In the quest for an answer, the intersection of the personal and professional lives of staff and management at these trucker refuges stands in clear relief, especially in an extended visit with Genevieve Slusher, a songwriter and waitress at the 49er, and her husband, Dewey. Driver camaraderie, still offered at the best of diners, illustrates how any truck stop truly can be a trucker's home away from home.
It's a veritable caper of a episode, so hang on tight:
Also in the podcast: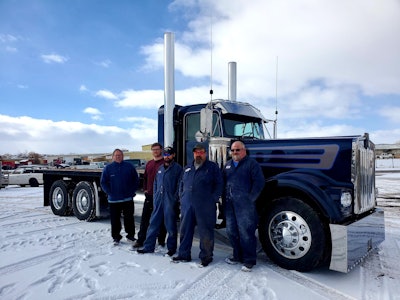 A fairly moderate amount of snow in and around Evanston, Wyoming, this season has put a bit of a damper on winter business for the Dustbusters provider of road de-icers and stabilizers for dusty gravel roads. It hasn't, however, stopped work in the shop on the beauty of a daycab 1980 Kenworth W900A owner-operator Martin Herman has put in with this crew – Dustbusters owner Craig Prete, shop foreman Cole Potter, mechanic Kipp Knight and Austin Oliver. Regular readers may well recall Herman's own 1970 model W900A from our detail of it back last summer.
In the podcast, Herman details a good bit of the work put into Prete's 1980 after it had been more or less idle for many years. The daycab features a rollback body Dustbusters will likely use mostly simply as a flatbed for hauling bagged product. (The tow companies in the area are keeping an eye out for stiff competition, nonetheless, Herman joked.)
Near the end of this week's episode, too, a brand-new song from Paul Marhoefer, in part inspired by the stories told here in what was originally Over the Road episode 4, airing early last year. You can hear the new song in full via the Youtube embed below, and keep tuned for more releases from Marhoefer from this session with cellist Michael Ronstadt: