Owner-operator and mechanic Martin Herman of Evanston, Wyoming, said he was fortunate to be involved in this months-long project with the company he pulls tank doubles for with his own 1970 Kenworth, though that truck's own issues and downtime led to this project's beginning.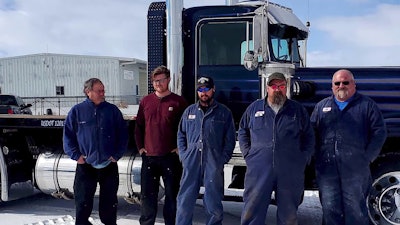 This 1980 W900A was the first truck in the company owned by Dustbusters' Craig Prete. Prete (on the far left in the resto crew's picture) has had the truck for decades, and with (continuing from left) mechanics Austin Oliver and Kipp Knight, shop foreman Cole Potter, and owner-operator Herman turned the former short-hood tractor into a long hood by moving the cab back on the frame and ordering a replacement hood from TruFit in Oklahoma. A Cummins engine became a 3406 Cat, and a fresh button-tuck interior from Daycab Company trimmed out Herman's intricate dash-panel work inside.
In the video, Herman walks Overdrive Senior Editor Todd Dills through the basics of the build from start to finish. The process began late last fall and wrapped in January with the addition of a rollback body and ultra-custom headache-rack treatment.
Dustbusters is in the business of supplying de-icers and other road fluids and solids. The rig will probably haul big bagged aggregates locally when it's working, though Herman laughs that all the tow companies in the area around the company's Evanston, Wyoming, headquarters are a mite worried about potential competition. Time will tell.