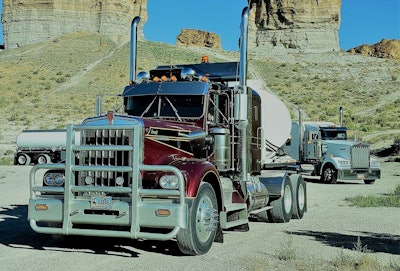 With the Brake Safety Week inspection event upcoming Aug. 23-29, independent owner-operator Martin Herman, a tank-doubles hauler based in Wyoming, is sure to be ready. In today's edition of Overdrive Radio, we talk inspections with Herman, for sure, but more so his half-century-old 1970 Kenworth needlenose W925 — an exceptional rig.
Regular Channel 19 readers may well recall Herman as the owner-op who engineered replacement parts and even used a turbo from a Cummins N14 to retrofit to the Big Cam 3 that powered the Kenworth. Since we last checked in with Herman, that motor is no more, as you'll hear, but it's still Big Cam-powered. What did he do? Take a listen:
Also in the podcast: A little further insight on what the state of Texas has prepared for the Brake Safety Week event — coops are likely to be open, as it were. Texas Department of Public Safety Major Chris Nordloh's part of a discussion I wrote a little about Thursday revealed that, "at our fixed facilities," he said, "troopers will be focused on Level 1 inspections." That's the most comprehensive vehicle and driver inspection level. He was quick to point out, though: "We do this day in and day out." But enforcement campaigns like this coming week's, and Roadcheck and others, allow states to in some ways harmonize what they're doing across North America with industry outreach and specific data collection aspects, as I also wrote Thursday about one for next week — on the prevalence of hose/tubing violations.
Commercial Vehicle Safety Alliance rep Will Schaefer recommended that, if you're interested in just what your state has planned, or are looking for ways to otherwise participate (not uncommon with these events, he said, for reps from carriers of all sizes to participate in the event in a variety of ways), contact the lead agency for your state. You can find a full list of lead agency contacts via this link to the CVSA website page where they're listed by jurisdiction.
A few more views on owner-operator Herman's KW:
Following, a picture of the 1974 KW from which Herman took the coffin sleeper that's now on his own truck (he's got a 60-inch sleeper he'll eventually replace that with). The 1974 was a resto project he undertook for a friend who wanted the restoration done in honor of its owner, his grandfather.