This week's special edition of Overdrive Radio features the words and music of singer-songwriter Stephen Flatt, native of White County, Tennessee, and current Nashville resident. Flatt's first record as a solo artist, "Cumberland Bones," came out last month and features the "Hold You Tonight" single that in part takes the point of view of a long-distance hauler on his way home to the family.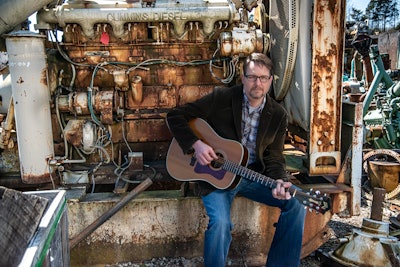 As you might well have guessed, Flatt's no stranger to trucking, having worked for years in shipping and receiving and thus with plenty trucking companies, owner-ops and drivers, for a few different outfits. Today he's doing logistics work in the health-care space, dealing with smaller packages but with similar concerns.
If Stephen Flatt's name sounds familiar, that's because he's got bluegrass royalty a few generations behind him – one Lester Flatt, in fact, was his Great Uncle. I sat down with him this week to run through some of the tracks on the record, including the new single and so much more. It's traditional country, a couple tracks with a little bit of that bluegrass influence, though as Flatt notes some might call it "alt country" today. It's a record full of narratives about characters, "whether your in-laws or outlaws, people you've worked with and been friends with."
There's a lot about it to like. Listen to hear how you can be one of five to get a copy of the CD mailed to your doorstep: