At the East Coast Truckers Jamboree truck show early this month, Overdrive news editor Matt Cole spoke with these six owner-operators about a lot more than just the custom rigs they were showing. A year following the depths of the early-pandemic downturn, for this episode of the Overdrive Radio podcast it felt like a fine time to reflect on the experience of the past year.
Here find rolling perspectives on the trials (oh those early days rates), and some joys (the fall-off in four-wheelers), of trucking through the COVID-19 pandemic, as well as thoughts on where owner-operators go from here in terms of addressing the biggest issues of the present well into the future, chief among them the parking situation all around the country.
The six featured here: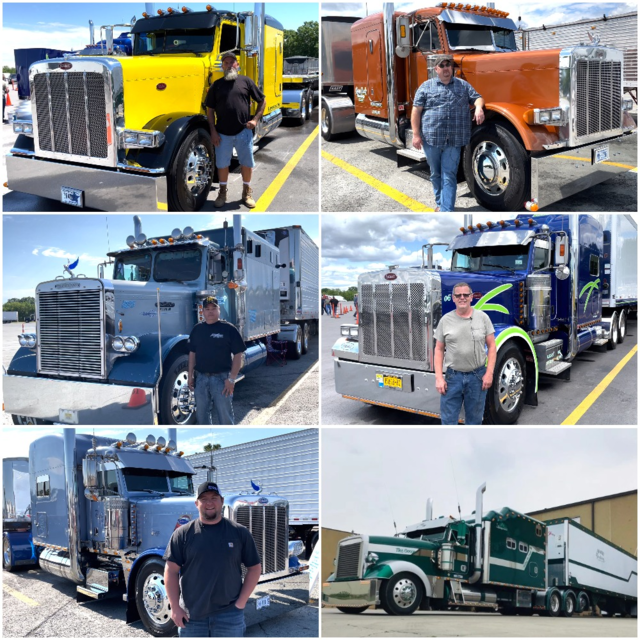 Clockwise from top left:
**Steve Johnson, based in Apple Valley, California. He's currently leased on with Landstar and hauls pretty much anything that will fit on a flatbed in a flattop 2019 Pete 389.
**Greg Eudy, owner of Greg Eudy Trucking, out of Monroe, North Carolina. Eudy hauls sand and rock to concrete plants for Reynolds Trucking out of Indian Trail, North Carolina, in a 2000 Pete 379 that he converted from a day cab to a sleeper.
**Jeff Walters, owner of J&N Trucking out of Bath, New York. Walters hauls dry freight as an independent with his 2006 Pete 379 and 2019 Great Dane van.
**Hear Daniel and Phyllis Snow's contemporaneous pandemic-trucking experience tale from this time in 2020 via this link. The Snows operate Snow Trucking out of Harrison, Arkansas, with this 1996 Freightliner, christened "The Goose."
**Austin Kiser drives for his dad's operation, Greg Kiser Trucking, based in Rosedale, Virginia. They pull mostly pneumatic tanks and some dump trailers. Check out their "Midnight Shadow" 2018 Peterbilt 389 via this link.
**Robert Davis, out of Vermont, hauling Cabot Cheese in a 2012 Great Dane 53-foot slide and spread reefer, with a 1988 Freightliner FLC120.

Take a listen: