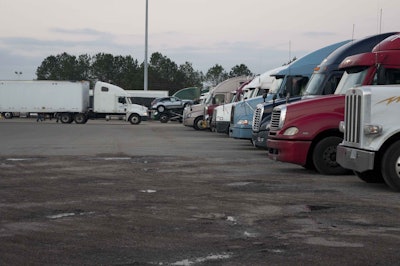 The American Transportation Research Institute is looking to collect real-world information on the daily situations and challenges truck drivers face in locating safe parking, ATRI announced March 21.
ATRI is recruiting drivers who will keep a 14-day "diary" of their truck parking issues. The diaries ask drivers to record daily stops that relate to fuel and food stops, their 30-minute rest break and the mandated 10-hour break. Drivers will record the time and location of their stops, how long it took to find a parking space and other information about the location, amenities and why the driver chose it.
The data collected from the diaries will build on existing knowledge of truck parking shortages, ATRI says.
Drivers interested in participating should visit the ATRI website to complete a prequalifying survey, or visit ATRI's booth #40577 at the Mid-America Trucking Show next week. Selected drivers will be contacted by email to obtain the diary. The first 100 participants to return their completed diary will receive a $50 Visa gift card.