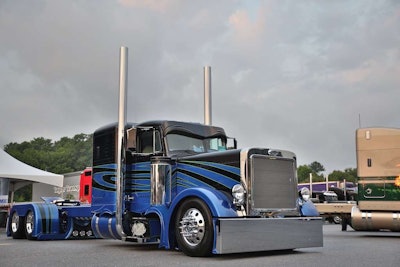 Disorderly Conduct, a 1999 Peterbilt 379 and former Pride & Polish National Champ, won Best of Show in the Limited-Mileage Bobtail category at the year's first Overdrive's Pride & Polish show, held this weekend at the 75 Chrome Shop in Wildwood, Fla.
The truck is now owned by longtime Pride & Polish competitor Todd Roccapriore, who also brought his award-winning Widow Maker to the annual Florida event. Roccapriore's Disorderly Conduct also won the People's Choice award.
In addition to Roccapriore's '99 Pete, three others won Best of Show honors, qualifying all for the 2015 Pride & Polish National Championship, the finale for which will be held at the Great American Trucking Show in Dallas in August.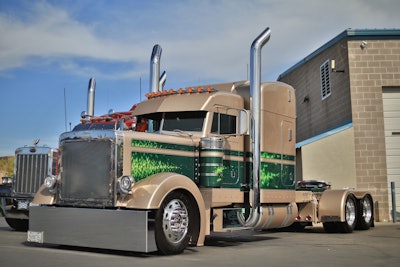 Wisconsin-based owner-operator Kenneth Fischer won Best of Show in Working Bobtail category with his 1997 Peterbilt 379. Fischer already qualified to compete in this year's Pride & Polish National Championship by winning Best of Show at the Performance Diesel Inc. Pride & Polish show held in St. George, Utah, last November. He and the truck also competed in the 2014 Pride & Polish National Championship, having won Best of Show at last year's June-held River States Customz Pride & Polish to qualify.
In the Working Combo category, Okeechobee, Fla.-based operator Michael LeCrenier won Best of Show with his 2014 Green Kenworth T880 and 2008 Polar Tanker.
And in the Limited-Mileage Combo category, Josh Reed's 2015 Kenworth W900L and 2015 MAC trailer won Best of Show.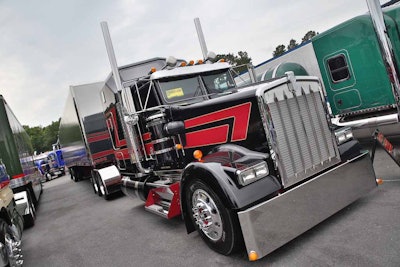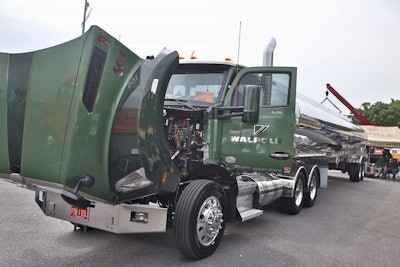 Here's the full list of winners from the show:
BEST OF SHOW:
Limited-Mileage Combo: Josh Reed, Pioneer, Ohio; 2015 Kenworth W900L, 2015 MAC flatbed
Limited-Mileage Bobtail: Todd Roccapriore, Hebron, Conn.; 1999 Peterbilt 379
Working Combo: Michael LeCrenier, Okeechobee, Fla.; 2014 Kenworth T880, 2008 Polar Tanker
Working Bobtail: Kenneth Fischer, Muscoda, Wis.; 1997 Peterbilt 379
**
BOBTAIL –ANTIQUE
1st Place – Ryan Wichter, Eustis, FL; 1982 Green Marmon P110
2nd Place – Johnny Byers/LL Carter & Son, Ruther Glen, VA; 1988 Black & Burgundy Freightliner Classic
3rd Place – Orelyis Roque/Roque Brothers, Opalocka, FL; 1980 Green Peterbilt 359
BOBTAIL – FIRST SHOW
1st Place – Daniel Van Dyke/Opel Logistics, Hudsonville, MI; 2015 Maroon Peterbilt 389
2nd Place – Andres Urgelles, Miami, FL; 2000 Midnight Blue Freightliner Classic – "Resurrection"
3rd Place – Armando Amador, Ocala, FL; 2001 Red & Gold Freightliner Classic XL – "Big Red"
BOBTAIL – SPECIALIZED
1st Place – Jeff Revis, Wildwood, FL; 2015 Viper Red Kenworth T370 – "Fireball"
2nd Place – Earl Millirons/New Image Towing & Recovery, Forest Park, GA; 2005 Red Peterbilt 379 Wrecker
3rd Place – Charles Church/Greg Sherlock, Orlando, FL; 2006 Black Peterbilt 357
BOBTAIL – WORKING
1st Place – Kenneth & Barb Fisher, Muscoda, WI; 1997 Mocha & Green Peterbilt 379
2nd Place – David Foster, Joplin, MO; 2005 Red & Gray Kenworth W900L
3rd Place – Troy Huddleston, Yale, IL; 1991 Viper Red Freightliner Classic – "Flirtin' With Disaster"
COMBO – 1998 & OLDER
1st Place – Robert Opp, Pomona Park, FL; 1987 Green Ford CL9000/1989 Great Dane
2nd Place – Steve Blanchette, New Canada, ME; 1984 Blue Peterbilt 359/2005 Great Dane Reefer – "Linda Mae"
3rd Place – Eric Bilgo, Jackson, WI; 1995 Black, Gold & Copper Peterbilt 379/2015 Mac Curtainside Flatbed – "Down With the Sickness"
COMBO – 1999-2007
1st Place – Kevin Secotte, Thomaston, ME; 2007 Blue & Silver Western Star LowMax/2006 Great Dane Reefer
2nd Place – John Jaikes III, Nanticoke, PA; 1999 Purple Kenworth W900L/2006 Utility Reefer – "O.N.L.Y C.L.A.S.S"
COMBO – 2014 & NEWER
1st Place – Michael LeCrenier/Walpole Trucking, Okeechobee, FL; 2014 Green Kenworth T880/2008 Polar Tanker – "Little Bumble Bee"
2nd Place – Clint Dicks/CDT, Inc., Lake City, FL; 2015 White & Orange Kenworth T680/2016 Utility Reefer
3rd Place – Frank Lagana/Phillip Williams & Sons, Plant City, FL; 2014 White Kenworth T660/20115 Benson Flatbed
INTERIOR – CAB ONLY
1st Place – Clint Dicks/CDT, Inc., Lake City, FL; 2015 White & Orange Kenworth T680/2016 Utility Reefer
2nd Place – Troy Huddleston, Yale, IL; 1991 Viper Red Freightliner Classic – "Flirtin' With Disaster"
3rd Place – Joel Dawes, Waterford, WI; 2014 Red Kenworth T660
INTERIOR – OEM SLEEPER
1st Place – Kenneth & Barb Fisher, Muscoda, WI; 1997 Mocha & Green Peterbilt 379
2nd Place – David Foster, Joplin, MO; 2005 Red & Gray Kenworth W900L
3rd Place – Eric Bilgo, Jackson, WI; 1995 Black, Gold & Copper Peterbilt 379/2015 Mac Curtainside Flatbed – "Down With the Sickness"
BEST INTERIOR – LIMITED MILEAGE
Todd Roccapriore, Hebron, CT; 1999 Black & Blue Peterbilt – "Disorderly Conduct"
PAINT – BOBTAIL
1st Place – Kenneth & Barb Fisher, Muscoda, WI; 1997 Mocha & Green Peterbilt 379
2nd Place – Jeff Revis, Wildwood, FL; 2015 Viper Red Kenworth T370 – "Fireball"
3rd Place Tie – David Foster, Joplin, MO; 2005 Red & Gray Kenworth W900L
3rd Place Tie – Joel Dawes, Waterford, WI; 2014 Red Kenworth T660
BEST PAINT – LIMITED MILEAGE BOBTAIL
Todd Roccapriore, Hebron, CT; 1999 Black & Blue Peterbilt – "Disorderly Conduct"
PAINT – COMBO
1st Place – Eric Bilgo, Jackson, WI; 1995 Black, Gold & Copper Peterbilt 379/2015 Mac Curtainside Flatbed – "Down With the Sickness"
2nd Place – Robert Opp, Pomona Park, FL; 1987 Green Ford CL9000/1989 Great Dane
3rd Place – Clint Dicks/CDT, Inc., Lake City, FL; 2015 White & Orange Kenworth T680/2016 Utility Reefer
BEST PAINT – LIMITED MILEAGE COMBO
Josh Reed/Lanita Specialized, Pioneer, OH; 2015 Black Kenworth W900L/2015 MAC Curtainside Flatbed
ENGINE
1st Place – Eric Bilgo, Jackson, WI; 1995 Black, Gold & Copper Peterbilt 379/2015 Mac Curtainside Flatbed – "Down With the Sickness"
2nd Place – Kenneth & Barb Fisher, Muscoda, WI; 1997 Mocha & Green Peterbilt 379
3rd Place – Jeff Revis, Wildwood, FL; 2015 Viper Red Kenworth T370 – "Fireball"
BEST ENGINE – LIMITED MILEAGE
Tie – Todd Roccapriore, Hebron, CT; 1999 Black & Blue Peterbilt – "Disorderly Conduct"
Tie – Josh Reed/Lanita Specialized, Pioneer, OH; 2015 Black Kenworth W900L/2015 MAC Curtainside Flatbed