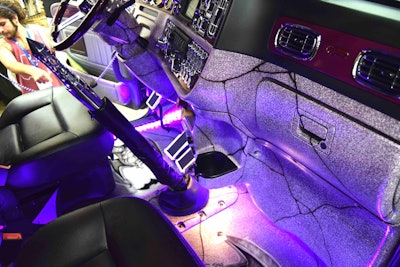 Perennial Pride & Polish juggernaut Ray Rodriquez of Lil' Ray's Transport has reworked the the interior of his 2015 Peterbilt 389, called "Wicked." The truck is on display at the Great American Trucking Show and in competition for the 2014-2015 Pride & Polish National Championship, the results of which will be announced Aug. 29.
The new interior design now melds the the truck's cab and sleeper with that of the outside, a continuation of the same stone castle theme of from the truck's exterior. Rodriquez and the shop that helps him with his custom work took off all of the panels and paint the textured pattern on each individually. Then, says Rodriquez' wife Suzy, they had to piece the panels together ("like a puzzle," she said) to get the paint the cracks so they lined up in the finish product.
The scheme not only flows under the dash and on the doors and floor of the cab, it also spans the sleeper's floor and panels. Rodriquez also added the purple lights you can see in the photos below. Stay tuned for more Pride & Polish coverage from GATS this weekend.