Overdrive's Pride & Polish show truck contest wrapped up Sunday in Wildwood, Fla., at the 75 Chrome Shop, where dozens of competitors showed to participate in the annual April-held event.
The show, the third in the 2015-2016 Pride & Polish National Championship season, also sent six more trucks to compete in this year's Pride & Polish championship finale, scheduled for this August in Dallas at the Great American Trucking Show.
National Championship awards will be given in six categories: Limited-Mileage Combo and Bobtail, Working Combo and Botail, and Builders Class Combo and Bobtail. A Trucker's Choice champion will also be named. The six Best of Show winners and their photos can be seen at this link, from Overdrive's coverage of the show this weekend.
Below is a gallery of some of the other trucks that competed in the event, along with a full list of winners from the 75 Chrome Pride & Polish.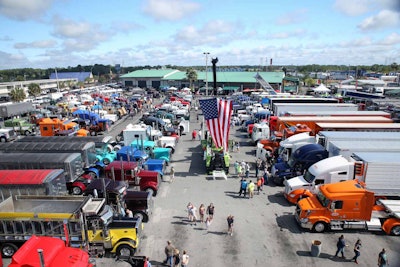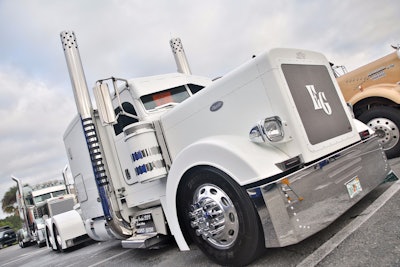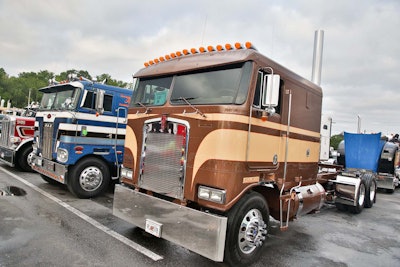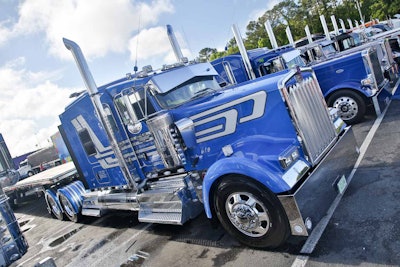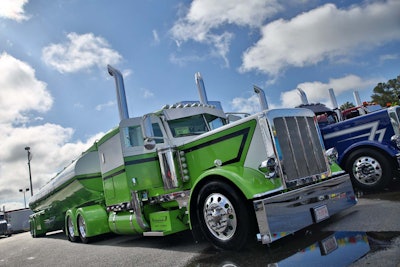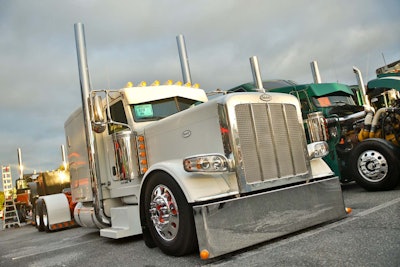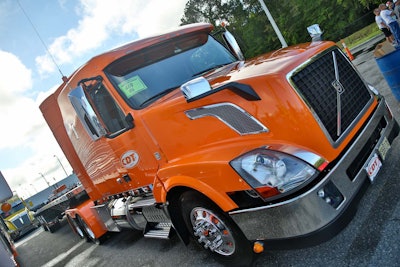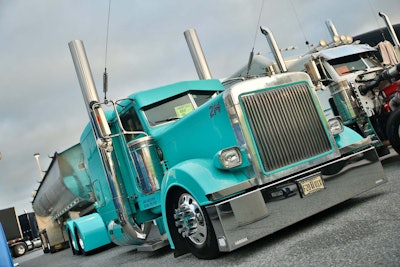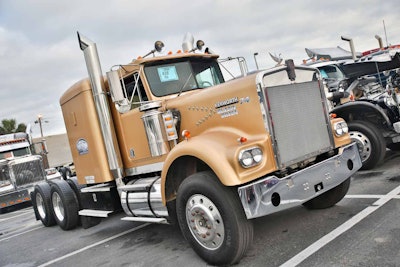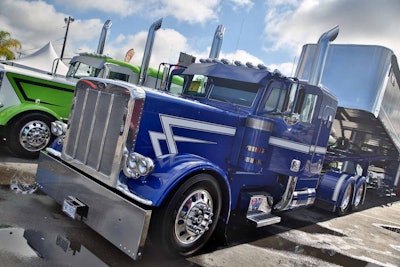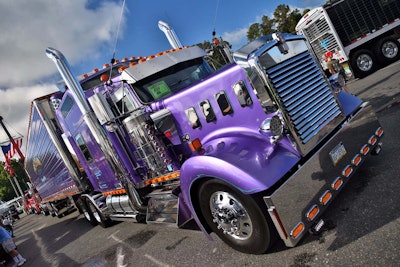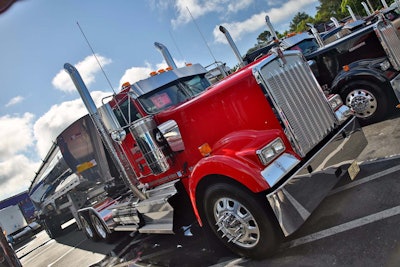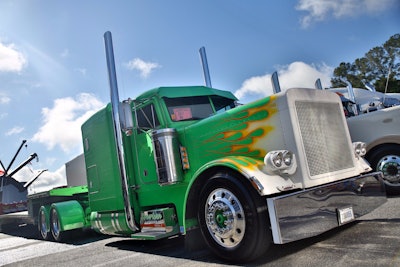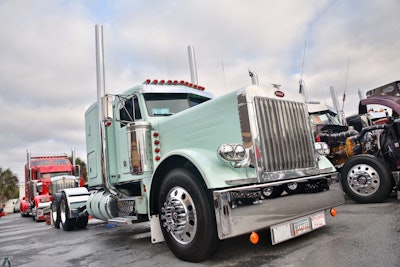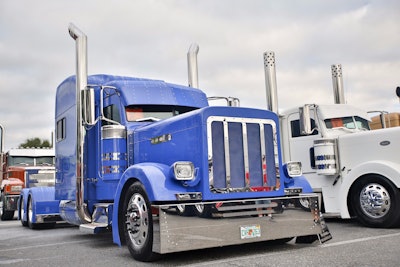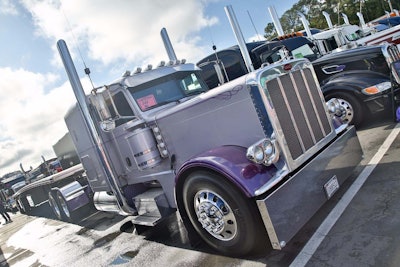 BEST OF SHOW – BUILDERS CLASS BOBTAIL
Best of Show – Bob Harley, Burbank, OH; 1972 Purple Peterbilt 358A – "Bad Attitude"
BEST OF SHOW – BUILDERS CLASS COMBO
Best of Show – Michael Manuel, Front Royal, VA; 2015 Blue Peterbilt 389/2017 MAC Curtainside – "One of Many"
BEST OF SHOW – LIMITED MILEAGE BOBTAIL
Best of Show – Doug Jameson/James Williams, Springfield, MO; 2015 Red and Black Peterbilt 389 – "Contender"
Runner Up – Keving Hlavac, Canton, GA; 1988 Brown Kenworth K100E – "Unconventional"
3rd Place – Brian Fretwell/Taylor Transport, Cartersville, GA; 2016 Blue Kenworth W900L/2015 MAC Flatbed
BEST OF SHOW – WORKING BOBTAIL
Sig Calangelo/Kyle Cousins, Carthage, MO; 2015 Purple Kenworth W900L
BEST OF SHOW – WORKING COMBO
Shawn Cielke, Haugan, MT; 2005 Burnt Orange Kenworth T600/2017 Wabash – "Redneck Low"
PEOPLE'S CHOICE
Michael Manuel, Front Royal, VA; 2015 Blue Peterbilt 389/2017 MAC Curtainside – "One of Many"
[gthr][/gthr]
ANTIQUE
1st Place – Keith Capone, Wimauma, FL; 1947 Green Mack LJt
2nd Place – Adam Kimball, Cummings, GA; 1990 Seafoam Green Peterbilt 379 – "High Roller"
3rd Place – Gene Patterson, Dade City, FL; 1956 Black Diamond t 921
BEST ENGINE – LIMITED MILEAGE OR BUILDERS
Bob Harley, Burbank, OH; 1972 Purple Peterbilt 358A – "Bad Attitude"
BOBTAIL – SPECIALIZED
1st Place – Daniel Bingel, Jr./Sean Ioscalzo, Davie, FL; 2013 Green Kenworth T800 Wrecker – "Crane Train"
2nd Place – Earl Millirons/New Image Trucking, Forest Park, GA; 2005 Red and Black Peterbilt 379 Wrecker
3rd Place – Douglas Lancaster, Orlando, FL; 2016 Red and Black Peterbilt 389 Wrecker
BOBTAIL – 2000 AND OLDER
1st Place – Eric Bilgo, Jackson, WI; 1995 Black and Copper Peterbilt 379
2nd Place – Brian Cooper, LeMars, IA; 2000 Light Blue and Plum Kenworth W900L – "Best of Both Worlds"
3rd Place – David and Tonya Smith, Richmond, KY; 1984 White and Black Peterbilt 359
BOBTAIL – 2001-2007
1st Place – Roque Brothers/A&A Stainless Steel, Opa Locka, FL; 2003 Blue Peterbilt 379
2nd Place – Erlys Gonzalez/A&A Stainless Steel, Opa Locka, FL; 2005 White Peterbilt 379
3rd Place – Brian Rudisell/Kuhnle Bros, Inc; 2005 Green Kenworth W900 – "Gone Green"
BOBTAIL – 2008 AND NEWER
1st Place Tie – Stan Rudnitsky, Orlando, FL; 2008 Red Kenworth W900 – "Big Red"
1st Place Tie – Sid Calangelo/Kyle Cousins, Carthage, MO; 2015 Purple Kenworth W900L
2nd Place – Joel Dawes/Dawes Contract Cartage, Waterford, WI; 2014 Viper Red Kenworth T660 – "Thrills, Chills & Dollar Bills"
3rd Place – Dan VanDyke/Opel Logistics, Hudsonville, MI; 2015 Dark Red Peterbilt 389
COMBO – FIRST SHOW
1st Place – Tony Amodeo, Palm Coast, FL; 2006 White and Red Freightliner Classic XL/2001 Great Dane – "Bad Apple"
2nd Place – Jonathan Terry, Crossville, TN; 1995 White Kenworth W900L/2005 Reitnour – "Driveway Dream"
COMBO – 1992-2012
1st Place – Shawn Cielke/ Haugan, MT; 2005 Burnt Orange Kenworth T600/2017 Wabash – "Redneck Low"
2nd Place – Chad Berry, Medford, WI; 2012 Black and Purple Peterbilt 386/2017 MAC Curtainside – "The Next Episode"
3rd Place – John Jaikes, Naticoke, PA; 1999 Purple Kenworth W900L/2006 Utility Reefer – "O.N.L.Y. C.L.A.S.S."
COMBO – 2013 AND NEWER
1st Place – Jeff Schultz/Rethwisch Transport, Elroy, WI; 2013 White and Green Peterbilt 389/2012 Polar Tanker – "Blood, Sweat & Gass"
2nd Place – Clint Dicks/CDT, Inc., Lake City, FL; 2017 Orange Volvo VN630/2016 Utility Flatbed
3rd Place – Casey Moro, Ft. Meyers, FL; 2016 Kenworth T370/2016 Rolls Right
INTERIOR – CAB ONLY
1st Place Tie – Joel Dawes/Dawes Contract Cartage, Waterford, WI; 2014 Viper Red Kenworth T660 – "Thrills, Chills & Dollar Bills"
1st Place Tie – Randy Menkel/James Williams, Springfield, MO; 2013 Black Peterbilt 389/2015 Etnyre Detachable Heavy Haul
2nd Place Tie – Daniel Bingel, Jr./Sean Ioscalzo, Davie, FL; 2013 Green Kenworth T800 Wrecker – "Crane Train"
2nd Place Tie – Clint Dicks/CDT, Inc., Lake City, FL; 2017 Orange Volve VN630/2016 Utility Flatbed
3rd Place – David and Tonya Smith, Richmond, KY; 1984 White and Black Peterbilt 359
INTERIOR – OEM SLEEPER
1st Place – Jeff Schultz/Rethwisch Transport, Elroy, WI; 2013 White and Green Peterbilt 389/2012 Polar Tanker – "Blood, Sweat & Gass"
2nd Place – Chad Berry, Medford, WI; 2012 Black and Purple Peterbilt 386/2017 MAC Curtainside – "The Next Episode"
3rd Place – Sid Calangelo/Kyle Cousins, Carthage, MO; 2015 Purple Kenworth W900L
BEST INTERIOR – LIMITED MILEAGE OR BUILDERS
Michael Manuel, Front Royal, VA; 2015 Blue Peterbilt 389/2017 MAC Curtainside – "One of Many"
PAINT – BOBTAIL
1st Place – Eric Bilgo, Jackson, WI; 1995 Black and Copper Peterbilt 379
2nd Place – Erlys Gonzalez/A&A Stainless Steel, Opa Locka, FL; 2005 White Peterbilt 379
3rd Place Tie – Joel Dawes/Dawes Contract Cartage, Waterford, WI; 2014 Viper Red Kenworth T660 – "Thrills, Chills & Dollar Bills"
3rd Place Tie – Roque Brothers/A&A Stainless Steel, Opa Locka, FL; 2003 Blue Peterbilt 379
BEST PAINT – LIMITED MILEAGE BOBTAIL OR BUILDERS
Doug Jameson/James Williams, Springfield, MO; 2015 Red and Black Peterbilt 389 – "Contender"
PAINT – COMBO
1st Place – Chad Berry, Medford, WI; 2012 Black and Purple Peterbilt 386/2017 MAC Curtainside – "The Next Episode"
2nd Place – Jeff Schultz/Rethwisch Transport, Elroy, WI; 2013 White and Green Peterbilt 389/2012 Polar Tanker – "Blood, Sweat & Gass"
3rd Place – Shawn Cielke, Haugan, MT; 2005 Burnt Orange Kenworth T600/2017 Wabash – "Redneck Low"
BEST PAINT – LIMITED MILEAGE COMBO OR BUILDERS
1st Place – Brian Davis/Davis Bros Trucking/ Owensville, IN; 2014 Blue and White Peterbilt 386/2016 Wilson Grain Trailer – "Buzz Kill"
ENGINE
1st Place – Randy Menkel/James Williams, Springfield, MO; 2013 Black Peterbilt 389/2015 Etnyre Detachable Heavy Haul
2nd Place – Jeff Schultz/Rethwisch Transport, Elroy, WI; 2013 White and Green Peterbilt 389/2012 Polar Tanker – "Blood, Sweat & Gass"
3rd Place – Sid Calangelo/Kyle Cousins, Carthage, MO; 2015 Purple Kenworth W900L
-Deanne Winslett contributed to this report