Five custom show trucks left Dallas last week with top honors in the show truck landscape: Best of Show winners in the Great American Trucking Show Pride & Polish.
In addition to the five judge-selected winners, attendees also had a say, with GATS attendees naming the Truckers' Choice champion, which also happened to be one of the Best of Show winners.
See shots of the five Best of Show winners below, along with a full list of winners from GATS Pride & Polish. Photos below are all by Jason Kindig.
Best of Show, Limited Mileage Combo | TJ Kounkel's 2018 Peterbilt 389 and 2020 Wilson Silverstar livestock trailer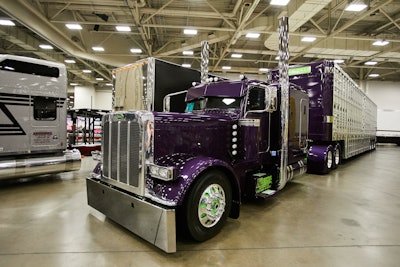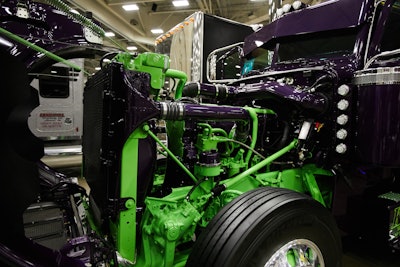 ---
Best of Show, Working Combo and Truckers' Choice | Eric Turner Sr.'s 2015 Peterbilt 389 and 2018 Wally Mo 8-car hauler, "Showtime"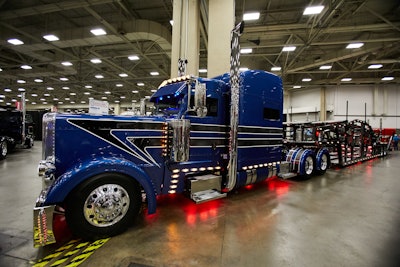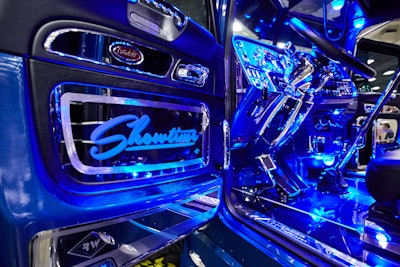 ---
Best of Show, Limited Mileage Bobtail | Mike Briseno and Lindamood Demolition's 2013 Peterbilt 389, "Wicked Obsession"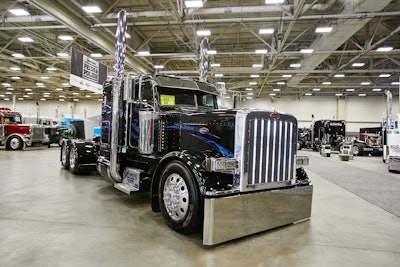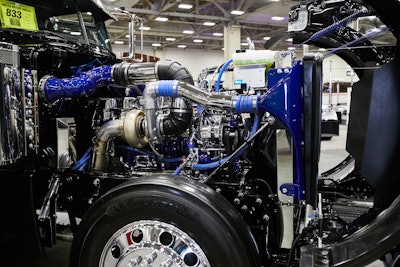 ---
Best of Show, Working Bobtail | Kaleb Hammett and Hammett Excavation's 2017 Peterbilt 389, "Ya Savvy"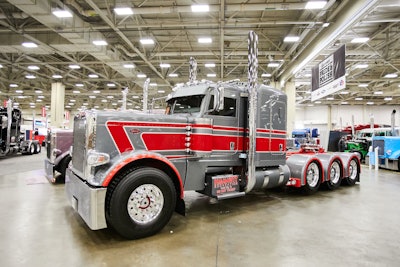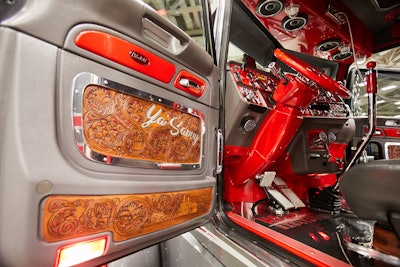 ---
Best of Show, Builders Class | Ray Thompson's 2000 Peterbilt 379, "Foolish Habit"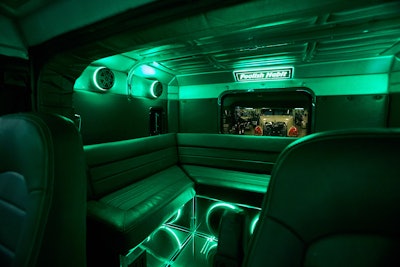 ---
ANTIQUE – BOBTAIL – 1975 & Older
1st Place – Marty & Brenda Glomb, Taylor, TX; 1955 Kenworth, "Pepe"
2nd Place – Pablo Cuellar, La Porte, TX; 1973 Kenworth K-125, "Kenny"
3rd Place – Wade Wardlaw, Woodville, TX; 1975 Peterbilt 359, "Wade's Pride N Joy"
ANTIQUE – BOBTAIL – 1976 – 1994
1st Place – Tony Kidd/Daryl Livingston, Texarkana, TX; 1978 Kenworth W900A, "Miss Leila Marie"
2nd Place – Ed Harwell, Cave Springs, AR; 1988 Freightliner FLT086, "Service and Sacrifice"
3rd Place – Willie Lewis, Texas Truck Tuning, Cleburne, TX; 1985 Peterbilt 359
ANTIQUE – COMBO
1st Place – Geo Cuellar, La Porte, TX; 1985 KW K-100E/1980 Matlack Van, "Clyde"
2nd Place – David Schnautz, La Porte, TX; 1981 KW W900A/1982 Wilson Livestock Trailer, "A Dream Come True"
3rd Place – Delma Gibbs, Detroit, TX; 1980 Gray, International Transtar II Eagle 4070B/2005 Chaparral Step Deck
BOBTAIL – NEW TRUCK (LESS THAN 50,000 MILES)
1st Place – George Geesbrecht/Peter Webbe, Aylmer, ONT, CANADA; 2019 Kenworth W900L
2nd Place – Bryce Brown/Hammett Excavation, Dodd City, TX; 2019 Peterbilt 389, "Got The Bug"
3rd Place – Drennon Durham/Texas Truck Tuning, Cleburne, TX; 2019 Peterbilt 389
BOBTAIL – COMPANY TRUCK
1st Place – Mike Shantz/Vernla Livestock, Inc, Wallenstein, ON, Canada; 2017 Kenworth W900L, "The Butler"
2nd Place – Jake Lindamood/Lindamood Demolition, Irving, TX; 2007 Peterbilt 379
3rd Place – David Kosar/Riteway Truck Rental, Dallas, TX; 1996 Peterbilt 379
BOBTAIL – 2010 & Older
1st Place – Shane P Boullion, Carencro, LA; 2001 Peterbilt 379, "Rosemary"
2nd Place – Brett & Chris Chastain, Flora, IN; 2005 Mack CXN, "Every Dog Has It's Day"
3rd Place – Danny Hewer/Pete Weebe, Aylmer, ON, Canada; 2014 Kenworth W900L
BOBTAIL – 2011 & Newer
1st Place – Kaleb Hammett/Hammett Excavation, Dodd City, TX; 2017 Peterbilt 389, "Ya Savvy"
2nd Place – Tim Cody, Jr, Lake Ozark, MO; 2018 Peterbilt 389, "Keep Throwing Money At It"
3rd Place – Mike Hicks/Kyle Cousins, Carthage, MO; 2015 Kenworth W900L
COMBO – FIRST SHOW
1st Place – James & Cynthia Hodge, Chattanooga, TN; 1985 Peterbilt 359/2000 Haulmark Drop Deck Van, "Trucking For the Word of God Ministry"
2nd Place – Jimmy Nevarez, Phelan, CA; 2018 Freightliner Cascadia/2010 Wabash Duraplate Van
3rd Place – Henry Albert, Laredo, TX; 2018 Freightliner Cascadia/2008 Utility Van
COMBO – COMPANY TRUCK
1st Place – Luis Fraoa, Pasadena, TX; 2019 Kenworth W900L/1995 Utility Curtain Side
2nd Place – Gabe Rosenthal/Stevens Transport, Dallas, TX; 2020 Kenworth T680/2020 Utility Reefer
COMBO – OPEN
1st Place – Eric Turner, Sr, Ellenwood, GA; 2015 Peterbilt 389/2018 Wally Mo Auto Transporter, "Showtime"
2nd Place – Tony Huttenstine, Queen City, MO; 2010 Kenworth W900L/2017 Extreme Conestoga
3rd Place – Carl Wilson/Anel Becirevic, Rowlett, TX; 2019 Peterbilt 389/2018 Vanguard Van, "Big Yellow"
INTERIOR – CAB ONLY
1st Place – Jake Lindamood/Lindamood Demolition, Irving, TX; 2007 Peterbilt 379
2nd Place – Tony Huttenstine, Queen City, MO; 2010 Kenworth W900L/2017 Extreme Conestoga
3rd Place – Drennon Durham/Texas Truck Tuning, Cleburne, TX; 2019 Peterbilt 389
INTERIOR – OEM SLEEPER
1st Place – Tim Cody, Jr, Lake Ozark, MO; 2018 Peterbilt 389, "Keep Throwing Money At It"
2nd Place – Kaleb Hammett/Hammett Excavation, Dodd City, TX; 2017 Peterbilt 389, "Ya Savvy"
3rd Place – Eric Turner, Sr, Ellenwood, GA; 2015 Peterbilt 389/2018 Wally Mo Auto Transporter, "Showtime"
INTERIOR – AFTERMARKET SLEEPER
Bob & Linda Caffee, Silex, MO; 2019 Freightliner Cascadia, "Big Blue"
BEST INTERIOR – LIMITED MILEAGE OR BUILDERS CLASS
Ray Thompson, Campbell, MO; 2000 Peterbilt 379, "Foolish Habit"
ENGINE
1st Place – Eric Turner, Sr, Ellenwood, GA; 2015 Peterbilt 389/2018 Wally Mo Auto Transporter, "Showtime"
2nd Place – Kaleb Hammett/Hammett Excavation, Dodd City, TX; 2017 Peterbilt 389, "Ya Savvy"
3rd Place – Jake Lindamood/Lindamood Demolition, Irving, TX; 2007 Peterbilt 379
BEST ENGINE – LIMITED MILEAGE OR BUILDERS CLASS
Ray Thompson, Campbell, MO; 2000 Peterbilt 379, "Foolish Habit"
PAINT – BOBTAIL
1st Place – Tim Cody, Jr, Lake Ozark, MO; 2018 Peterbilt 389, "Keep Throwing Money At It"
2nd Place – Kaleb Hammett/Hammett Excavation, Dodd City, TX; 2017 Peterbilt 389, "Ya Savvy"
3rd Place – Mike Hicks/Kyle Cousins, Carthage, MO; 2015 Kenworth W900L
PAINT – COMBO
1st Place – Eric Turner, Sr, Ellenwood, GA; 2015 Peterbilt 389/2018 Wally Mo Auto Transporter, "Showtime"
2nd Place – Tony Huttenstine, Queen City, MO; 2010 Kenworth W900L/2017 Extreme Conestoga
BEST PAINT – LIMITED MILEAGE OR BUILDERS CLASS – BOBTAIL
Ray Thompson, Campbell, MO; 2000 Peterbilt 379, "Foolish Habit"
BEST PAINT – LIMITED MILEAGE – COMBO
TJ Kounkel, Merrill, IA; 2018 Peterbilt 389/2020 Wilson Silverstar