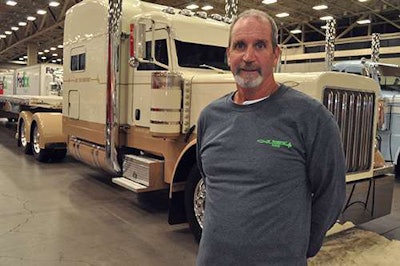 One way we are celebrating the 30th anniversary of Overdrive's Pride & Polish is by looking back at the 30 most-popular Pride & Polish show truck videos from our YouTube page.
We are counting down the videos from the No. 30 to the No. 1 most-viewed Pride & Polish video leading up to the 2020 Pride & Polish competition at the Great American Trucking Show in Dallas, which will be held Aug. 27-29.
Up this week at No. 20 is Dean Jay's 2007 Peterbilt 379 and 2013 MAC flatbed, "Cream Puff." The truck took home three awards from the 2014 Pride & Polish at the Great American Trucking Show in Dallas: Working Combo, OEM Sleeper and Custom Paint Combo.
The Sleeper award was due in large part to Jay's use of animal pelts inside the cab. Jay said at the time he enjoyed hunting, fishing and trapping, so he used that as the theme for the truck.
Be sure to subscribe to Overdrive's Custom Rigs free weekly newsletter to catch all of our Pride & Polish 30th anniversary coverage.