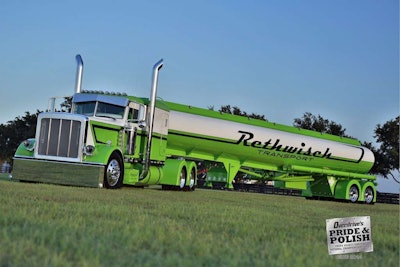 One way we are celebrating the 30th anniversary of Overdrive's Pride & Polish is by looking back at the 30 most-popular Pride & Polish show truck videos from our YouTube page.
We are counting down the videos from the No. 30 to the No. 1 most-viewed Pride & Polish video leading up to the 2020 Pride & Polish competition at the Great American Trucking Show in Dallas, which will be held Aug. 27-29.
Up this week at No. 19 is Tomah, Wisconsin-based Bill Rethwisch's 2013 Peterbilt 389, Blood, Sweat and Gass. The truck won the 2013-2014 Pride & Polish National Championship in the Working Combo class.
The green and white 389 is paired with a matching Polar tanker. The exterior theme of the truck and trailer also carry over into the interior of the rig.
Be sure to subscribe to Overdrive's Custom Rigs free weekly newsletter to catch all of our Pride & Polish 30th anniversary coverage.