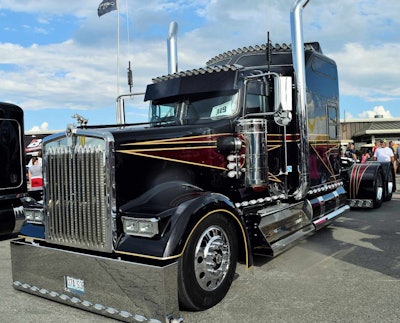 One way we are celebrating the 30th anniversary of Overdrive's Pride & Polish is by looking back at the 30 most-popular Pride & Polish show truck videos from our YouTube page.
We are running through the videos from the No. 30 to the No. 1 most-viewed Pride & Polish video. Plans for a 2020 event are currently on hold due to the COVID-19 pandemic.
Up this week at No. 18 is "Ace in the Hole," a 2008 Kenworth W900 owned by Kyle Cousins and Carthage, Missouri-based Fleenor Bros. The rig's name stems from the truck being a backup of sorts for the fleet when no drivers were available for a load, Cousins would jump in this truck to take it.
Cousins pulled the truck off the road with intentions to repaint it, but that turned into a more involved rebuild. The stripes on the truck feature a marbleized red scheme. He goes into more of the rebuild in the video above.
Be sure to subscribe to Overdrive's Custom Rigs free weekly newsletter to catch all of our Pride & Polish 30th anniversary coverage.