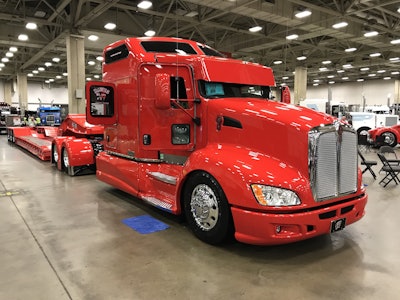 One way we are celebrating the 30th anniversary of Overdrive's Pride & Polish is by looking back at the 30 most-popular Pride & Polish show truck videos from our YouTube page.
We are running through the videos from the No. 30 to the No. 1 most-viewed Pride & Polish video. Plans for a 2020 event are currently on hold due to the COVID-19 pandemic.
Up this week at No. 17 is Joel Dawes' 2016 Kenworth T660, which he showed paired with a 2018 Globe triaxle RGN at the 2017 Great American Trucking Show in Dallas. The truck won Best of Show in the Limited Mileage Combo class.
Dawes, owner of Dawes Contract Carriage of Waterford, Wisconsin, said his Kenworth's color scheme, red with black accents, was inspired by the colors of the University of Wisconsin, where his daughter was enrolled at the time.
Be sure to subscribe to Overdrive's Custom Rigs free weekly newsletter to catch all of our Pride & Polish 30th anniversary coverage.