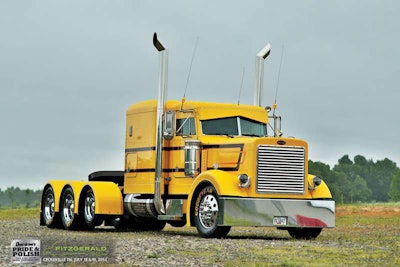 One way we are celebrating the 30th anniversary of Overdrive's Pride & Polish is by looking back at the 30 most-popular Pride & Polish show truck videos from our YouTube page.
We are running through the videos from the No. 30 to the No. 1 most-viewed Pride & Polish video. Plans for a 2020 event are currently on hold due to the COVID-19 pandemic.
Up this week at No. 15 is Ron Brubaker's "One of a Kind" 1993 Peterbilt 379, which won Best of Show in the Working Bobtail class at the Fitzgerald Pride & Polish in Crossville, Tennessee, in 2014.
The short-hood Pete was powered by mechanical Cat 3406B with a 15-speed two-stick transmission. The rig got its "One of a Kind" moniker from the flying swine hood ornament (fitting given the creatures Brubaker typically hauled at the time) to newly redone tile flooring and other interior elements in 2014.
Be sure to subscribe to Overdrive's Custom Rigs free weekly newsletter to catch all of our Pride & Polish 30th anniversary coverage.