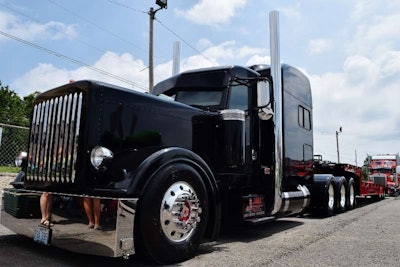 One way we are celebrating the 30th anniversary of Overdrive's Pride & Polish is by looking back at the 30 most-popular Pride & Polish show truck videos from our YouTube page.
We are running through the videos from the No. 30 to the No. 1 most-viewed Pride & Polish video. Overdrive is holding a virtual Pride & Polish competition this year with photo submissions being accepted through midnight, July 21.
Up this week at No. 7 is Springfield, Missouri-based J&L Contracting's 2013 Peterbilt 389 glider, "Back in Black." J&L driver Randy Menkel gives a walkaround of the rig in the video above.
The heavy-haul rig was powered by a 2002 6NZ Caterpillar engine run through an 18-speed. It was paired with a 2015 Trail King Hydro Tail.
This video was captured at the Pride & Polish event in Crossville, Tennessee, in 2015. The truck also entered the 2016 75 Chrome Shop Pride & Polish event in Wildwood, Florida, where it earned a tie for first place in Interior – Cab Only and a first place in the Engine category.
Be sure to subscribe to Overdrive's Custom Rigs free weekly newsletter to catch all of our Pride & Polish 30th anniversary coverage.