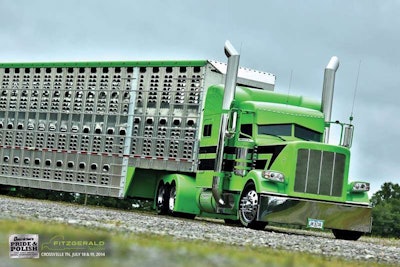 One way we are celebrating the 30th anniversary of Overdrive's Pride & Polish is by looking back at the 30 most-popular Pride & Polish show truck videos from our YouTube page.
We are running through the videos from the No. 30 to the No. 1 most-viewed Pride & Polish video. Overdrive is holding a virtual Pride & Polish competition this year, in which finalists will be chosen through online reader voting.
Up this week at No. 5 is Dan Brubaker's "All In" 2014 Peterbilt 389 and 2015 Wilson livestock hauler. The truck won Best of Show in the Working Combo class at the 2014 Pride & Polish event in Crossville, Tennessee.
Owner-operator Brubaker and others in the family business' shop did all the custom work on the rig, including building most of the custom parts themselves. The project started as a moderate interior makeover that turned into an "All In" rebuild, giving the truck its moniker.
Be sure to subscribe to Overdrive's Custom Rigs free weekly newsletter to catch all of our Pride & Polish 30th anniversary coverage.