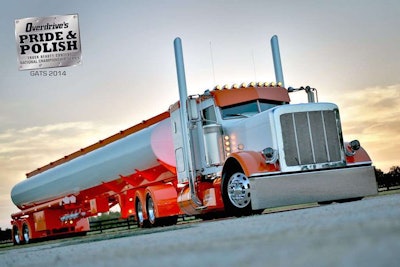 One way we are celebrating the 30th anniversary of Overdrive's Pride & Polish is by looking back at the 30 most-popular Pride & Polish show truck videos from our YouTube page.
We are running through the videos from the No. 30 to the No. 1 most-viewed Pride & Polish video. Overdrive is holding a virtual Pride & Polish competition this year, with reader voting ongoing now through Aug. 16.
Finalists and winners will be presented Aug. 28 in a virtual event streamed on Overdrive's Facebook page as part of Overdrive's GATS Week, Aug. 24-28. It will begin at 8:30 p.m. EST, following the finale of Overdrive-Red Eye Radio's Trucker Talent Search, which begins at 8 p.m.
Up this week at No. 3 is "Dreamsicle," a 2012 Peterbilt 389 with a matching Polar tanker owned by Wisconsin-based Bill Rethwisch. The truck won Working Combo Best of Show at the Crossville, Tennessee, Pride & Polish event in 2013 to qualify for the year's National Championship round of judging at the Great American Trucking Show. The truck impressed judges in Dallas, and it took home the 2013 Pride & Polish Working Combo National Championship.
Rethwisch said at the time that the truck and trailer were both stripped down and rebuilt from the ground up. Modifications included a custom interior colored orange and white to match the outside, custom deck plates and toolboxes, fenders and more than 250 lights on both the truck and trailer.
Be sure to subscribe to Overdrive's Custom Rigs free weekly newsletter to catch all of our Pride & Polish coverage.